Rosie Doonan - Pot Of Gold (Silvertop)
Coming from the sturdy bedrock of a family of musicians, and humble beginnings amongst the free festivals of the British countryside, Rosie Doonan's Pot Of Gold speaks of experience in both life and musical ability.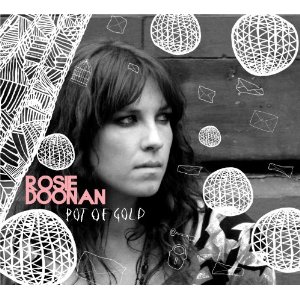 With as many slow moving tracks as there are fast paced and pithy, its is a warming summation that comes to us on a cold winters evening. The rural edge that creeps hints at a level, even anthropological, perspective from Rosie herself. The soft and tender voice that charms throughout the record compliments the arrangement of a multitude of string arrangements which form each tune's foundations.
Light and whimsical is the opener 'Fall For Me', brimming with that rush of passion bestowed upon a new lover. There's a spine tingling energy as Rosie sings "Did you fall for me, cos you made me fall for you", connecting with that sharp sense of urgency "tell me everything that I gotta do to keep you". This dark urgency of a miss-spent passion indulges the next two tracks, 'Darker Side Of Love' and 'Lay Your Love'. Both offer up a deep rhythmic pulse, over which lays strummed strings and tinkling keys in a lower scale. This serves to create a tension of unnerving mysticism in 'Darker Side...', whilst proffering a beautiful sense of philosophy in the sadness of 'Lay Your Love', in strains of the mandolin and a plucky overarching riff.
There is a maturity in moments like these, Rosie musing softly over lyrics which detail the pull between "true love" and "new love" in 'Wind That Shakes The Barley'. The firm sense of a cautionary folk tale in this and 'Winter Song' offer another more traditional element to the album. This depth truly places
Pot Of Gold
in the classics category, alongside many of the ageless albums which resonate as much today as they did when first released.
The ease a grace with which Doonan manages to interweave those sad and yearning moments with the swift energetic tracks (epitomising the youthful naivety which colours so many teen experiences) is astounding, breathing a freewheeling spontaneity into many tunes that appeals across the age groups. In 'Nobody Better', the elegance of unexplained agony first felt in tender youth is eloquently explored, yet in title track 'Pot Of Gold' and 'Pop Song', the lightness of movement across the piano keys and sturdy drumbeat speaks of zero responsibility and summery days spent frolicking- "how we were free then".
Closing with the beautiful efforts of 'Say Goodbye' and 'Victor' in a bid to create a seasonal shift, there is a real traditional timbre and a respect of the natural elements that shape life in the countryside. Achingly beautiful, 'Say Goodbye' employs the dark cascading violin to sharply castigate Rosie's assured and assuring lyrics "it's just for one year", correlating sadness with the hope that resonates in these words. 'Victor', closing the album denotes that classic idealised tale of yearning and feminine sensibilities, lyrics "You're Valentino, I'm Greta Garbo...won't you be my boy" delicately chiming over the ukulele.
Pot Of Gold
is both freewheeling and sunny, dark and urgent. There is a philosophical sense of acceptance of all life's disappointment, with a fast pace that leaves you feeling breathless with a newfound respect for the cross-section of human emotions. Never hiding behind facades of cultural reference or throwaway observations, Rosie gets right to the heart of some of our stronger and perhaps stranger emotions, captivating everything from the first flushes of love with 'Fall For Me', as well as the fading fight that come with the end of a relationship in 'Lay Your Love'. Heartbreaking and joyful in equal measure there is an emphasis of a life loved, and lessons learned in every niche of this sophisticated album.