Robots With Rayguns: Slow Jams (Sofa King Vinyl)
Patchy, occasionally inspired 80s homage from ultra prolific Phoenix native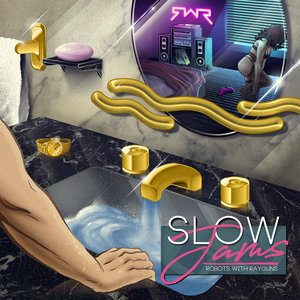 Lucas Patrick Smith, aka
Robots With Rayguns
has spent this decade churning out a steady stream of indie released synth pop. Five records to be exact, not to mention singles, tracks and remixes galore. To call the Phoenix impresario prolific would be an understatement.
On his fifth record,
Slow Jams
Smith takes on the radio pop slow jam, long a staple of CD collections, mixtapes and long distance dedications. From the first tones of the opener, it's clear that RWR's project is a real mixed bag; what works here works, devilishly well and what does not work, falls spectacularly.
Instrumentally, Smith manages to carve a hand full of unique gems from familiar form. What for other artists feel like album filler, specifically dramatic instrumentally oriented tracks, on this album comes to life. Take for example, 'Sexual Tension' down tempo and so subdued, there is an almost abstract air of experimentation that begs the question, is RWR celebrating or satirising the form?
His opening track, 'Breathless' is affecting, smooth and full of a sinewy cool that carries through on the instrumentation of 'Get Over U Slow Jam'. He creates vocal variety using effects, actually giving the album considerable range, but it doesn't exactly get off wide voices. These are 'get busy' songs, simple as that. Going in a full-on 80's movie direction, Smith breaks
Slow Jams
to a finish with an audacious rarity, the brightly lit burner, 'The Ballad Of Sharon Stone' a song that fills your daily need for rom-com music montage. You can almost feel (
Breakfast Club
star) Ally Sheedy walk out of the haze and lovingly touch her hair. She's looking at you, kid.
The cover the 'Careless Whispers' is really lightweight and feels flimsy. Can anyone capture the nostalgic, powerhouse track? Perhaps not. Here the track feels disposable, and it points to what doesn't work on the album. Our ear has all but been trained to associate this kind of lighter than air, synth-oriented jam as just that, disposable. The challenge for Smith is to make that lasting and meaningful. Is he successful?
What I find disagreeable about
Slow Jams
may be part of it's overall appeal, especially in a world where it's less about album vision and more about the track. There is something thoroughly modern about how the fifteen tracks don't knit together, making it less of a cohesive album and more of a compilation.
Robots With Rayguns Links