Rob Williams - Southern FM (Self-Released)
Richmond, VA Americana artist delivers the goods on second solo LP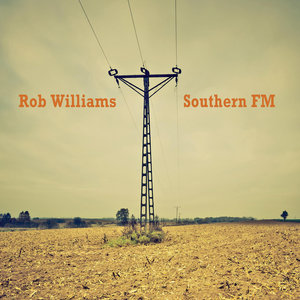 From the first needle drop on
Southern FM
, it is quite clear that
Rob Williams
is a master of jangly, southern tunes that when played on his guitar, come across as a honey sweet blend of rock and Americana folk. He's heartfelt, his song lyrics carefully confessional and you can feel deep in your guts the upbeat bounce on "Footprints" a bring-it-back-home song that infuses good feeling in the old, one guy, one guitar and the truth manner.
This is Williams' second foray as a solo artist after 2013's
A Place In The Sun
and a decade long stretch fronting the now dormant indie rock band, Joe Buck Jr. where it's clear that he cut his teeth and learned a few tricks.
On a few songs, such as "Where You Hang Your Heart" Williams and company turn up the production just a notch, bringing a bigger, more indie rock/radio rock sound but it's really his more down turned, shrewd sounding country songs like "Best I Can Do" and "Sometimes It's A Song" where this Richmond, Virginia artist shines the brightest.