Rising Appalachia - Alive (Self Released)
Led by sisters Chloe and Leah Smith, the seventh LP by the Americana troupe presents their finest moments live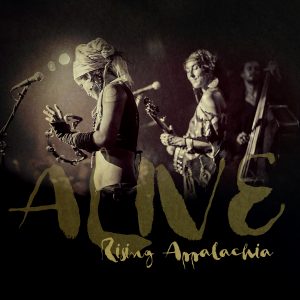 Appropriately,
Rising Appalachia'
s new live record is titled,
Alive
. The underlying meaning I take out of that being, these songs, although recorded, are living and breathing in spirit.
Chloe and Leah Smith are the main performers in the New Orleans-based musical collective, who bring a broad array of instruments to their folksy sound. On this record, skeletal guitars and light hand percussion provides the instrumental backbone. Nothing is more critical to the songs though than the smoky, siren voices provided by the sisters.
Chloe and Leah have voices that play together in a lovely, surprising manner. Curiously, they started out recording an album for family, a quaint project that led to an internationally acclaimed band. Many of the songs on this record are summery and warm, but there are enough darker tracks, like the haunting Medicine that send a listener down a shadowy, Autumn road as well. They don't do murder ballads, but just listening to these girls it is clear that the third use of the knife is never far from over the shoulder. They're bluesy, as evidenced on Swoon which is as seductive as it is brash.
In total, the performance is complete. Banter between songs keeps the fire burning. Rising Appalachia allows the performance to take on its own energy, up and down, like the life cycle of joys and sorrows that it aims to replicate.
If there is something negative to be said about
Alive
it may be the lack of variety – this is precisely the record you think it is going to be from Lean In as the opener, through Stromboli in the end. The Smith sisters provide a delightful pre-occupation with harmony, lacking what I had hoped would be some political edge. The only real stab at the current apocalyptic state of affairs being Occupy and even that feels less about the message than the preoccupation with rhythm. Put this record on. Allow the music to spill out like evening sun through the shades. You will not regret it.