Richard Youngs - Beyond The Valley of Ultrahits (Jagjaguwar)
Merely the response to a friend's challenge to 'make a proper pop record', this is a collection of songs that really will stick in your head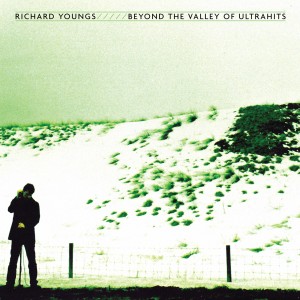 Glasgow has long been celebrated for its independent music – plenty hot new bands, artists and scenes have come out of there in the past few decades, but you can be sure that no media flurry about music in that city will ever mention the name Richard Youngs.
There are a few reasons for this. Despite being hugely prolific, Glasgow-dwelling Youngs is a reclusive sort; live appearances are rare and tours even rarer. Plus his wide ranging experimentation hardly has mass appeal. He's one of these refreshing free spirits making music unbound by any commercial motives, happily releasing several sets of recordings each year, some of them on CDRs, others on small labels and a few on Jagjaguwar. It's perhaps no surprise that no British label of any size has taken an interest in Youngs, but gratifying to see that an American record company have seen fit to release at least some of his output.
So I'd like to follow that by saying that this album is the one to introduce him to a wider audience. After all
Beyond the Valley of Ultrahits
is a bit of a change for Youngs – he's made a pop album. And it's not an obtuse or ironic album either – it's a proper pop record, full of tunes, hooks, gorgeous harmonies and electronic beats. So much so that you'd wonder if Youngs has a secret love for the Pet Shop Boys.
Despite their lack of high-gloss sheen, this is a collection of songs that really will stick in your head. Sure, there are little intricacies and complexities creeping in, as you may expect, but this is mostly a straightforward album, inviting you to appreciate it on its own terms. In fact, 'Oh Reality', with its easy melody, propulsive rhythm and unexpectedly appropriate guitar solo, may be a candidate for one of the best pop songs of the year.
But it's no crossover album. There's no commercial bent behind it, merely the response to a friend's challenge to 'make a proper pop record'. Youngs has done that, but he's primarily done if for himself. There's no attempt to reach out to new audiences. The original release was a limited-run CDR which only a few hardy souls found. But the higher profile Jagjaguwar release vinyl and digital, which is great because given his talent, it would be a shame if Richard Youngs remained a prophet without honour in his own city and country.