Richard Thompson - Dream Attic (Proper)
No one has told Richard Thompson about the accepted order of things, but then he has always seemed to go his own way.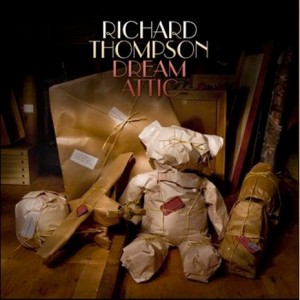 A famous or cult act usually brings out a new album after months of hard work in the studio. Then they tour featuring material from the album. Next the live album of the tour appears showcasing the new material. Then, at some point in the future either the acoustic demos are released as a 'collectors' item' or as extras with a re-packaged original album.
That is the accepted order of things. What you don't do is go straight to recording a whole new set of songs live and release it on an unsuspecting audience. No one has told Richard Thompson about this, but then he has always seemed to go his own way and not get entangled in music business trends and fashions. To be honest, his music has seemed all the better for that and many a RT fan would not want him to change his ways at all.
So, here is a set of 13 new songs recorded live with high calibre musicians on tour at a number of venues in the States earlier this year. You can tell it is fresh material as there are none of those 'we know this one' ripples of appreciation a few bars into a song, mostly an enthusiastic response reserved for the closing of the play.
Of course, when the man in the black beret goes off on one of his steaming guitar solos as in 'Haul Me Up' or some intensive volcanic playing as on 'Crimescene', then you can expect some positive reaction as RT fans live for such magical moments when the power is unleashed and the tasteful restraint is for a time abandoned. As you would imagine, this is not a collection of rough-edged live recording but a well measured selection, doubtless reflecting the pick of live sets from the tour, meticulously chosen at length for their individual merits.
It starts in fine form with 'The Money Shuffle' as we have been waiting to see what Mr Thompson makes of the economic situation and all those bankers! If you expect a lively mix of rocking tunes, sombre moods, bleak despair and walks on the dark side you won't be disappointed. Songs like 'Here Comes Geordie' hark back to the jolly folk-flavoured characters found on Thompson solo albums since his first
Henry the Human Fly
and crystallised by the time that Richard and Linda Thompson brought out LPs such as
I Want To see The Bright Lights Tonight
and
Hokey Pokey
.
There is even a rollicking rustic feel to the tale of murderer 'Sidney Wells', but then death was always part of the folk canon, though this is no murder ballad. From quiet, intensive reflection to outright rage, this is a splendid album with scarcely a dull moment. It's not as if all he's had to do is sit around looking for inspiration for material either, since he is a busy man be it as host to a musical feast on London's South Bank this summer, touring with his musical diversions offering the right level of education and entertainment, or appearing at Cropredy 2009 individually and collectively as a solo performer and as a member of Fairport Convention and the briefly-revived GPs.
While he shines brightly in the company of other musicians, Richard does not really need a band as he is capable of presenting his music very much on his own. If you admire that side of the man, then don't delay in getting your copy of
Dream Attic
as you will be rewarded with a second album of the 13 new songs in acoustic demo form presented in the same running order for comparison with the live band cuts. The recording studio will never become redundant, but Richard Thompson at least proves that there is another way.