Prince Daddy & The Hyena: I Thought You Didn't Even Like Leaving (Broken World Media)
Barnstorming Replacements evoking power pop from New York's State Capitol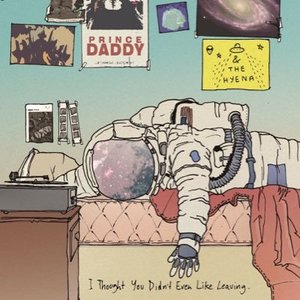 Like knuckles busted on rawhide, like leaving layers of knee skin on the rug, like the burn of a twisted ear in sub-zero temperatures,
I Thought You Didn't Even Like Leaving
brings back a whole lot of memories. The third album of raspberry throated, punk-spattered power pop from
Prince Daddy & The Hyenna
is a robust collection of noise that offers a refreshing tonic to what has become an overly progressive indie rock scene.
The Albany, New York band doesn't attempt to gild the lily, avoiding perhaps the biggest pitfall for bands like these who trade in hurt teenage feelings and confusion. Everyone wants to hybridize; not these guys, it is all about the attitude and the posture. I'm always comparing these bands to The Replacements, which is a terribly unfair pedestal to even glimpse from this far off perspective.
The subjects touched on are quite familiar. Kornelious P Jenkins has a lot of axes to grind, both literally and figuratively. He shreds on guitar while wailing on about forgotten medications, the forlorn life of a slacker and, wait for it, stoner politics. On their own merits, Jenkins and Cambo "Shitty Bastard" Hannaford can flat out chase your indulgent doldrums away on guitar and that's really the Rosetta Stone for a band like Prince Daddy & The Hyena. They're fast, furious fun and utterly unforgiving.
The songwriting on
I Thought You Didn't Even Like Leaving
I'm pretty lukewarm on but it does fit the basic formula. I was young once. I remember how I used to grit my teeth through a lot of bullshit that I flat out didn't understand and hell, I came out on the other side well enough. Only a few times over the course of the record does the band spread their wings and experiment with pop/punk, a necessity on future records if they're striving for staying power. The title song is pretty much up to form, messy and spastic. On "Bromeo//Always Good" the rhythm section shines as more than a frayed mess, laying out a basic outline for the madness. Heck, "Clever Girl" and "Nika Got It Wrong" had me ready to call out some old grievances, decades and careers past.
The last and longest song on the album, "Really" shows the band has a few tricks. The nearly five minute long song fractures and digresses into a few curious interludes while still dropping addictive riffs. Eventually, Paul Westerberg evolved his snot-nosed outfit into something else while keeping true to his roots, and it's this track that leads me to believe that these guys may age with, rather than in defiance of their audience.
This is a blast though. If these droopy-eyed slackers sing your anthem, I'll salute.