Police Bastard - It's Good To Hate (Iron Man)
Furious when it needs to be and restrained in all the right places - the lyrics are your typical unsophisticated anti-capitalist rants but, well, you can't hear them most of the time anyway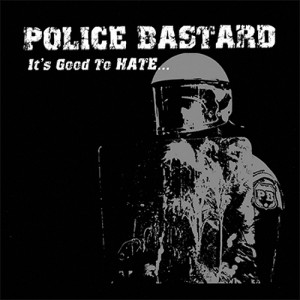 When you want to see punk rock at its absolute worst, it's usually easiest to just behold crust punk in all of its unwashed glory. Take all the worst things about Crass, speed it up, call yourself something stupid (note: it wasn't until I'd finished this review and read back over this paragraph that I realised that the singer of Police Bastard actually goes by Stu-Pid. I mean, seriously, come on now), boil your politics down to their absolute simplest possible form and generally be loud, obnoxious and unlistenable.
In all fairness to Police Bastard, though, they at least attempt to avoid many of the genre's pitfalls now and then. Opening track 'I Wish', a cover of a song by The Mob, is actually pleasingly sludgy, coming off like the kind of metal that hip, non-metal fans say they like. 'Erosion' darkly pummels away with churning guitar riffs that echo under alternating verses of spoken word diatribes and growls.
In fact, 'God Off' is the only really straight-up crust track on the EP, offering up fifty seconds of blast beats whilst one of the two singers complains about problems with the world's 'populaaaaaayshhhun'. Elsewhere,
It's Good To HATE
is an intelligent offering, furious when it needs to be and restrained in all the right places. The lyrics are your typical unsophisticated anti-capitalist rants but, well, you can't hear them most of the time anyway.
What will make this package essential to any Police Bastard fan, and probably at least of some interest to anyone else who cares about such things, is the inclusion of a DVD featuring an hour long film called
Keep An Active Mind
that features songs and tour videos cultivated from a year of Police Bastard shenanigans and two full live sets. Whilst not exactly professional standard documentary film making, the songs are perfectly listenable, and the two live sets are all shot with multiple camera angles, showing a close look of the band and their fans. The whole thing offers a pretty good introduction to the sights and sounds of the magical world of crust punk. All that's left is the smell, which is easy enough: just leave an unwashed leather jacket out in the sun for a couple of years.