Plants and Animals: Waltzed in from the Rumbling (Secret City Records)
Waltzed in from the Rumbling is perhaps the closest thing to shoegaze folk you're likely to hear. And it's brilliant.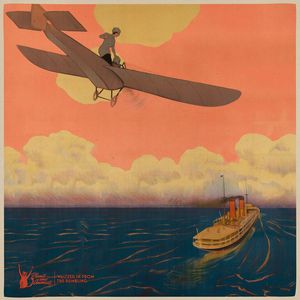 Plants and Animals
return after 2012's
The End of That
with a record full of body and flavour; the maturity of the Montreal trio's creative juices is evident from beginning to end. Having steered away from a busy touring schedule over the past few years, the band have poured all their efforts into producing an album that feels rejuvenated, freer, and far more narrative than its predecessor. Simply put, feel-good tracks such as No Worries Gonna Find Us juxtaposed with the pleading-love likes of Stay, demonstrate how Plants and Animals have interworked a whole lotta feeling into their fourth LP.
With metamorphic song developments fusing sweet piano refrains, laid-back guitar licks, crashing cymbals and enchanting vocal harmonies - the adept musicianship of the band is absolutely dreamy. The opening track, We Were One, is the perfect embodiment of this musical mantra; blending foot-tapping percussion with delicate strumming of the acoustic guitar, before working up to spiralling symphonic strings and a brass-laden crescendo.
The pace and soul of the record's second song really makes you feel as though "
No worries gonna find us/No worries gonna be the boss of my mind
" - a folk ballad that gives you wings. Lazy Sunday mornings spring to mind with the intro to the album's first single Stay. However, the track - and the record - takes a dark turn with moody guitar riffs pulsating through into All of the Time.
'Flowers' provides a continental soothing irony to "
We'll never be together again
", whilst the feeling of longing and lamenting really manifests itself in the somber piano refrains of Je voulais te dire: I wanted to tell you.
The record transforms once again with the funky number of 'Off the Water' involving silky fret-work and stuttering high-hats before rounding off with the other-worldly Pure Heart; a masterpiece of sonorous vocals and psychedelia.
Warren Spicer, Matthew Woodley and Nicolas Basque have returned to their creative roots, reminiscent of their debut album,
Parc Avenue
; a return to form. This record deserves a generous number of playbacks, just prepare to have your earbuds revitalised.