Perhaps Contraption - Mud Belief (Self-Released)
London based avant-rock/punk-jazz/marching band/post-classical troupe's winning second LP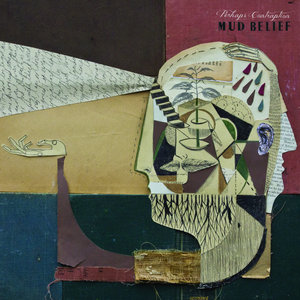 I try and not talk about myself in reviews I write, for obvious reasons being that it's all about the artist and everyone involved with the record in question. But this, however, can be an exception; you can even count it as a foreword or prologue if you're fancy like that. Anyway, I first stumbled across
Perhaps Contraption
two years ago, while meandering through endless mud at Glastonbury in the Shangri-La field. Clad in purple and gold, there were about ten of them rocking out on a podium covering Frank Zappa's 'Teen-age Wind'. My esteemed companion and myself were blown aghast in awe and have been following the band since. You could say, I was converted into the mud belief.
This is the second, long awaited full-length album by the London enormogroup ever since they morphed into a festival-gracing troupe of brass and bright colours, and parted ways with their sludgey guitar-led spasmo-punk sound. As this author had indeed hoped, it's festooned with Zappa-isms and is a further plunge into the avant-garde realms of the brassosphere. Arguably less catchy than some tunes on their previous LP
Listening Bones
, but a dedicated listen with minimal social distractions is the serving suggestion foretold in this review. Purely to marvel at the multi-dimensional arrangements which have been crafted in the Contraption factory for the last four years. There are moments of The Destroyers in there, and Sun Ra too.
They don't fart about at all in cutting to the chase. 'I Am I' is the opener and those words are the first sounds you will hear upon playing the record, before the organized melee of horns and choral absurdities ensue. 'Draining Refrain' comes the closest to a pop single with its beguiling skronky sax lines. It gracefully reeks of medieval music, and would make the perfect soundtrack to a meat-and-bread-heavy banquet turned food fight. One hopes that they're not referring to the refrain in this tune as draining… because it's bloody great. Credit goes to them for boldly mixing in the variety of tracks. The way the sillier sounding 'Mystery Meat' with its theatrical vocals and polka rhythm comes directly after 'Lunch For The Worms' – a peaceful yet melancholy ballad about being buried – is to be commended. Ender 'Perambulations' was a single a while ago but has a fitting slot in
Mud Belief
's finale proceedings with the lyric "this is your last dance" echoing throughout.
Textural highlights include the low wompy frequencies of the sousaphone and trombone, and equally so the higher twinkles of the glockenspiel and piccolo flute. Extra points for the use of the
china cymbal
, which hasn't been all that credible since Lars Ulrich ruined it for everyone. Some interesting Dali-esque artwork sets the visual tone too, helping to make it a largely enjoyable commodity on more than one merit.