Patterns - Waking Lines (Melodic)
Debut from this Manchester four-piece is a smorgasbord of sensory delights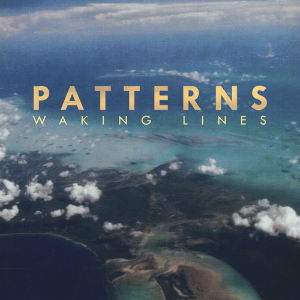 First things first, this is the stuff that makes you want to climb inside a floatation tank and see what goes on in your mind when this is all you have to feed your senses. Purveyed as 'drone pop' and 'shoe gaze', the Mancunian quartet that make up
Patterns
have created a stellar little selection in this debut album, setting up warming beacons that a shimmery Californian band would be right at home with. Perhaps its their Northern locale that places them in this dreamy haze, projecting warmer climes and bright audio that send a parade of colours flickering across your closed eyelids.
All sounding a little too fruity for you? Well, dear reader, deal with it. In these times of dampness and drab, the festive season giving way to an aquatic January, we need a little pick me up - and here we have a fully formed pill to take and float away on. The beauty of this album is that it is not demanding, creating a state where you can drift off and yet still pay attention to that which plays out. New single 'Blood' contains just about every trick in their playbook: heavy, drawn-out riffs that coagulate against resounding drum loops, washed out vocals harmonising overhead. The result is rich and compelling, but doesn't overstuff your senses.
Armed with guitars, bass and drums, Patterns also have their trusty laptop brimming with samples and recovered sound. The mix of 'guitar band' abandon with skillfully selected arrangements and artistic intelligence creates a careful line drawn between chaos and order. Opener 'This Haze' caresses the ears with whale-like vocals, emanating from its core the memory of 'Linger' by
The Cranberries
. Releasing into the tumult of bubbling bass notes and drum loops, the vocals and harmonies that are their mark really seals the overall sound. The creativity in the surrounding audio is arresting, as in moments of 'Broken Trains', mimicking the sound of electro birds singing, the wind rippling through synth trees. 'Face Masks' is haunting in its atmospheric drone, emulating the professed day of rapture.
Whilst the vocals aren't always so easy to take in, the overall sense of what they're trying to say comes across in delivery. The collective's desire to make music "like those weird dreams which feel familiar but quite alien at the same time" is projected in the gathering darkness of 'Street Fires'. Shimmering like the hot pavement on a sweltering day, the vocals appear to the ear rather feminine. Its slow burning opening gives way to an '80s lilt; the result is comforting, with a tint of otherworldliness. 'Induction' similarly unfurls from the familiar into madness as streaked riffs cavort with washed out bass and the odd squeaking note.
But there are moments of safety. 'Waking Lines', with its chiming intro of golden bubbles, on which the vocals bounce, is perhaps the most centred. Lyrics are clear as a bell, the riffs and drum loops more divided, creating a more open sound. The image created in mind is less of water colours and more of glitter. It holds you in relief of an album full of bleeding boundaries and stretched-out sound. Closer 'Climbing Out' combines these two senses; its urgency is more resounding, with a sharp bassline and crystal vocals, and yet the thudding drum beats and streaking colours of the guitar strings blur like a backdrop.
It's the combination of soft and hard lines that really purveys Patterns' talent for arrangement. Their ability to play with instruments and samples, melding elements to create hard and soft focus in your mind's eye, will keep you coming back for more. It may just be one of those records you put on when you're in an introspective mood, but isn't there something marvellous in that? Nevertheless, the most exciting thing about these guys is that it doesn't have to stop there! Their live embarkations are said to be as alive with epic visual entertainments as their compositions. Who doesn't like a group that can play with your eyes as well as your ears? Just give them a listen and you'll see what they are capable of.