Pat The Soul Cat - New Horizons (Rokie Pig)
One of the New Jersey traditionalists sticks firmly to his roots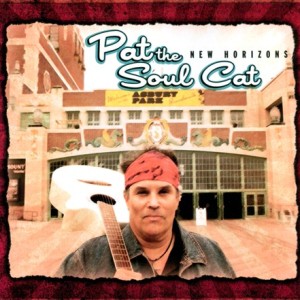 The sound of Asbury Park, New Jersey, traditionally belongs to the likes of Bruce Springsteen, Bon Jovi and Southside Johnny, while young upstarts such as The Gaslight Anthem have given it a contemporary twist. For each of the well-known names associated with the area, there are many bands and musicians who keep alive the rock tradition of the area playing in the seaside clubs and bars along the boardwalk.
Pat Toner, aka
Pat the Soul Cat
, is one such musician who has paid his dues and continues to present his songs for anyone who's willing to listen along the Jersey shoreline. A former member of Jobonanno & The Godsons of Soul, he now performs solo or alongside like-minded musicians and friends. This album, produced by John Mulrenan at Acorn Digital Studio, Farmingdale NJ, really represents an independent 'sampler' of his material which reaches across various genres.
The opening two tracks, 'Lost And Found' and 'This Town' (the latter co-written with Mark Fabian), really establish the Asbury Park connection and you can imagine songs of this calibre being performed by 'The Boss' in his pre-stadium days. There are a few straight-ahead rockers including 'Belle Of The Ball' and 'Sweet Troublemaker', the latter including performances by New Jersey legends Vini 'Maddog' Lopez (who played on the first two E Street Band albums) on drums and the late John Luraschi on bass.
Elsewhere there is everything from new romantics-style keyboards on 'Am I In Love?', the ballad 'May I Have This Dance?' and pure pop approach to the title cut. The brassy r&b-influenced sound Asbury Park is well known for gets an impressive airing on 'Give Me A Reason'. The latter song also appears on the 'Cant Stop Now' set from his former bandmates The Godsons, but the horn arrangement on Pat's solo version gives it the real edge.
At the risking of mixing the pet metaphors, Pat the Soul Cat sounds like the underdog struggling to make his voice heard amongst those well-known 'big cats', but lovers of the Asbury Park sound will certainly want to check this album out.