Off! - Wasted Years (Vice Records)
LA punk super group continue to deliver the goods on excellent third LP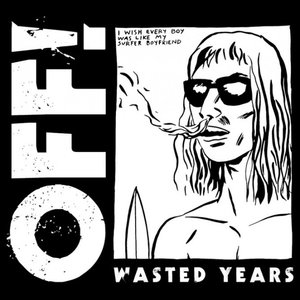 The new album by LA punk super group
Off!
is titled
Wasted Years
. I ask myself, after the first screeching chords blast out of my speakers, Wasted Years? When I listen to this record, I think back blissfully on those years wasted.
The album is fifteen tracks, each working comfortably within the blistering context that the best punk rock often does. The band member's progeny is unimpeachable, bringing Keith Morris (lead singer of Circle Jerks and original Black Flag founder) together with former members of Redd Kross, Burning Brides, Rocket From The Crypt and Hot Snakes.
The songs are as satisfying as the line up promises. With only one track clocking in at anywhere over two minutes (the whole album is only a touch over 23 minutes, the longest of their three releases) they are simple and short constructs with barely a drawn breath in between. Morris sneers brilliantly on the take-it-or-leave-it anthem "I Won't Be The Casualty" and huffs through the album's opener "Void You Out".
There is stirring variety, surprising for a punk record with hardcore ethos. There is a sprinkling of existential doom in the mix with tracks like "Your God", "Time's Not On Your Side" and "Mr. Useless" that stand up as some of the most disturbing punk indictments I've heard in a long time. I'm not going to say you have to listen to this record; if you're an outsider, this is harsh and abrasive stuff. If you've got an axe to grind though, you're better off putting
Wasted Years
on the turntable than almost anything I can recommend.
When the formula works, you don't change. Right? Off! has a pretty damn good thing going, having brought the finicky world of hardcore punk to its door with their 2010 debut collection
The First Four EPs
and a subsequent self-titled release. Four years later, the band has continued to keep things simple. They brought Raymond Pettibon back for his third cover and carried on with vicious efficiency, waxing drunken and defiant.