Not Squares - Yeah OK (Richter Collective)
Party band invite you to, erm, party.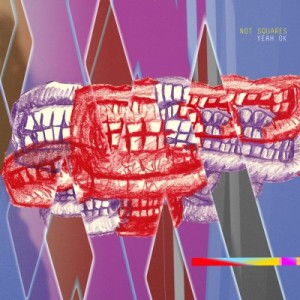 Being described as a party band could come in a platter of different guises. Diving head first into the rave division of such, while furiously chanting within a vortex of busy synth melee, we are presented with the trio Not Squares and their Rockstar energy-drink of a debut album. Reigning from Belfast and labelmates of fellow Irish clans Adebisi Shank and The Cast Of Cheers, they mix the intricate rhythmical hooks of the aforementioned over an unashamedly pounding electro underbelly.
It's probably not the worst idea ever to imagine you're at a Skins party when hearing this. Probably in a parents free house kind of atmosphere at that, or maybe inside a Laserquest. Loud, obviously. The opener and one-time single 'Release The Bees' suggests a filthy warehouse mash-up with some industrial Sven Vath-esque voicing and choppy techno breakdowns, before 'De Na Na' restrains us a tad, reminiscing the angrier sounds of The Rapture and Tom Vek. Vocoders and disco breaks of 'In Front' contrast with its light-speed melodies to welcome the new Tron film with racing vengeance.
Throughout the album's tenure, their admiration for the 8-bit samples becomes duly noted, in highpoint tune 'Yeah!' and the foremost centrepiece 'Asylum'. Yet also frequented are the group's tedious spazz-yelps. 'Don't Do Nothing', musically tantamount to the Millennium Dome involves a giant build-up into minimal fruition and said yelps, which can irritate like that ponce from The Automatic once did. '53' could have also been spared, it doesn't really burn that much rubber - just burning out if anything.
There are a number of reasons why
Yeah OK
comes across as immature. Both good and bad reasons; in the sense that it's excitable, bona fide and puppy-like, but respectively in the sense that certain tracks needlessly hinder the pace of the album, endangering it to live up to its title. Being a self proclaimed party band would entail conjuring up an all-in party album, not particularly of a relentless nature but with enough continuity. However, while it makes you wonder what would have happened if they had put all their collective balls into all the tracks, their audacity stands out generally as a bold move into the fast lane.