NLF3 - Beautiful Is The Way To The World Beyond (Prohibited)
Fourth album from French Jazz/Math-rock enthusiasts.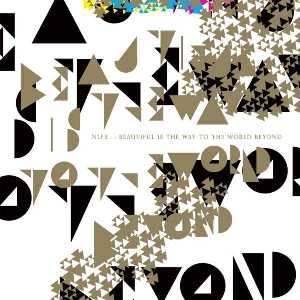 From across the channel, NLF3 are another group of orators helping to guide the rock band into a more egalitarian and versatile format. "[…] we like dancing on stage and singing like sorcerers, we like loops and live looping, tribal rhythms and creeping electronics". Made possible by the ease of software and sampling, their set up recalls the shared free flow of a Jazz ensemble and has become ubiquitous of Nu-Jazz groups such as Polar Bear, Jagga Jazzist and Tortoise.
It's an aspect that also attaches NLF3 to the Math Rock scene. With precision guitar engineering, 'The Lost Racer' is a dead ringer for Battles' particular style of Martian army marches (NLF3 have also supported them in the past and cite them as an influence). In striking contrast to what came before, the track grinds to a halt after four minutes and falls away into the calm of a faded synth sunset and wistful guitar strumming.
It may be their finest moment but their funniest can be found in the track before. 'Wild Chants' features kettle drums, a quiet chorus of exotic creatures and a voice effect that resembles a drunken Alvin the Chipmunk slurring his way through a tune. Later in the album, 'At Full Blast' plays out as a stripped back dance number while 'Enneagon' could happily soundtrack the strobe graphics of the 80's TV show Crystal Maze.
For all its charms and trinkets,
Beautiful Is The Way To The Beyond
feels more like a collection of early preparations and loosening jams than a band's fourth album. "We've been doing this for 20 years and we're not done yet" they stated in an interview, and I'd agree. NLF3 sound like a milder version of Battles and their new release rarely wavers from its perky and eccentric state of bliss. Ignoring all this however, it's still a musically tight, colourful and spirited performance that's sure to put a smile on your face.