Neal Morgan - In The Yard (self-release)
A leftfield drum and vocals record hits the right marks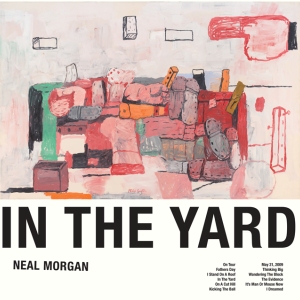 It's hard not to hear hints of the Beat Poets and Alan Ginsberg in the work of
Neal Morgan
. Joanna Newsom's touring partner and drummer since 2006 and Bill Callahan's since 2009, Morgan has arranged much of the instrumentation, drums and percussion on the pairs latest recordings
Have One on Me
and
Apocalypse
respectively. Self released, this second drum and vocal record and follow up to 2009's
To the Breathing World
from the San Franciscan considers home, neighbourhood, swimming and the painter Philip Guston.
Opener 'On Tour' sounds entirely ripped from the notepads on Ginsberg if not only in its observations of youth but too in his timely delivery. He couples this with cataclysmic drums, captured from afar on an old cassette boombox, and percussion which juxtapose with the calm of his spoken word. Other tracks such as 'In the Yard' and 'Father's Day' hold a Dirty Projectors influence in their harmonics and South American experimental beats, as the instrumental interruptions neatly punctuate and decorate Morgan's story songs of his explorations in his local neighbourhood.
Vocally the structure expressed in both lyrical and vocal form allow the percussionist to explore a free range of sounds on drum kit, and this somehow compliments for all the disparities between the two. 'In the Yard' is certainly not an easy listening album for the clattering and free jazz style approach taken to the cacophony of symbols and kick drums and too it is thematically repetitive though not exhaustively so. But beautifully light and pitch perfect male/female harmonies coupled with imagery of the Californian summer makes this album one you'll creep back to when you're looking for something a bit more leftfield.