Mystery Jets: A Billion Heartbeats (Caroline International)
Smart indie musings abound in this blissfully sunny tour de force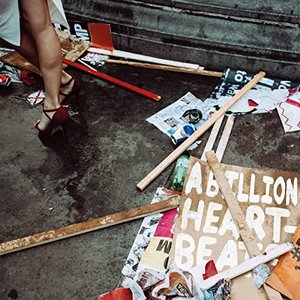 Just when you think early 'noughties' indie is shit out of luck,
Mystery Jets
return with resurrecting beauty. Yes, you can create actual instrument-based electro synth sound-clash in the current age and be culturally relevant. And what a joy to be reminded!
Back with their seventh studio album, the lads have come up with something that both holds weight with their musical past, and covers a lot of bases, waxing (literally) lyrical about some weighty ideas. Its like a love letter to the kids who grew up on this stuff, now in their thirties and facing the current shape-shifting sociopolitical landscape.
Their vast and cultured bevvy of musical influences are exemplified in this beautiful jewel in what is sure to be a dump of a year. 2020 is cancelled, lets move on.
It might be somewhat trite to begin at the beginning, but opener Screwdriver has definitely earned its place. Crushing the core of indie sensibilities in one track, it creates a 'call to arms' as such, with lyrics "
when the power of love/overcomes love of power/then the world/will be ours
" amplifying their mission statement.
To call this collection of songs 'Woke Indie' would be a little cringe, but it certainly speaks to a certain mature awareness of the world coupled with the revolutionary spirit of change. All bound together with the energetic approach the Mystery Jets have capitalized on.
One track, notable for its freewheeling Brit stoner style of nineties era artists, formulates a message in its title before you have even heard a word.
Cenotaph: "
An empty tomb or a monument erected in honour of a person or group of people whose remains are elsewhere
". This is particularly telling in lyrics "
the future's just the past staring back at you
". Are we doomed to repeat past mistakes? Framing the questions creates the view that we are living in one big empty tomb.
As Blaine Harrison croons, "
someday I know that we'll find our way back
" however, you know they are not without hope for the future. It's haunting execution is effortlessly soulful, tinged with the meticulous backbone of a solid riff emulating Ocean Colour Scene.
For the love of synth, and smooth eighties vibes, History Has Its Eyes On You has slinky soft permutations. Twinkling strings and a simple drum-loop revolve as were told to "
be who you needed when you were younger
", as a harmonic cadence lifts chorus to higher climbs.
Title track
A Billion Heartbeats
is an enticing entity, slyly introducing a snappy drumbeat that gathers speed, only to collide with an undulating baseline. As last words ring out "s
o why do we only speak/in the cold silence between our words
", the final line becomes a mantra of sorts. Pretty Drone stands out as a foray into the world of psychedelic rock, emulating the vocals of bands like Tame Impala. It is beautiful, and totally addictive, listening.
Dive into this record and you will become enraptured by indie all over again. Drawing on the beautiful heart of eighties era synth, the charm of electro and the swagger of indie and Britpop, they have formulated a record full of meaning. Their lyrics are insightful, thoughtful and reward repeated listening. But the best part is, it doesn't sound preachy or saccharine.
It's a step away from those wonderful early tracks like Two Doors Down, carrying in their lyrics thoughts of more worldly matters. But if that isn't your bag, the tunes are enough to carry you away to somewhere altogether more blissful. This is a summer album to be sure, best listened to in one sitting lying in a patch of sunlight, eyes closed.
Then break out all the indie albums you have ever owned and have yourself a revival.
8/10