Music For Voyeurs - Music For Voyeurs (self-release)
The sound of an Irishman weeping on a confused contemporary composer who probably just wishes the Irishman in question would shut up and make another record would only interest a small sliver of music fans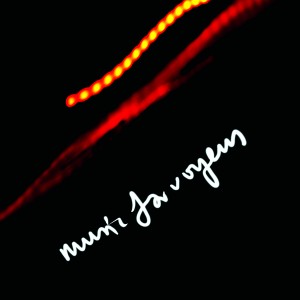 Not to blame Rick Senley a.k.a. Music For Voyeurs for every badly written press release ever, but it's kind of impossible to read about music being described as 'the ghostly spirit of Sparklehorse haunting Eluvium's lopps, the Boards of Canada snorting mephedrone with The Cure and My Bloody Valentine crying on the shoulder of Max Richter' and then listen to it without wanting to instantly dislike it.
Is anyone sure what any of those things would really sound like? Probably not something anyone would want to listen to, in all fairness. The sound of an Irishman weeping on a confused contemporary composer who probably just wishes the Irishman in question would shut up and make another record would only interest a small sliver of music fans and, chances are, it wouldn't sound like someone dicking around with poorly chosen and manipulated samples and then burying them in waves of ineptly played guitar and keys that for some reason appears to think 'atmospheric' is synonymous with 'severely limited technical ability'.
You may feel the need to disagree, but generally speaking, electronic music tends to serve one of two purposes: you're either gonna dance to it, or you're gonna zone out, calm down, fall asleep, whatever. Music For Voyeurs makes no effort at the former and fails at the latter as samples come crashing in far too loud and pointlessly and the music itself is far too regularly jarring or muddled to be relaxing. It's more likely to be paranoia-inducing, but not in any way that you'd want to praise.
Music For Voyeurs sounds like someone stayed up late listening to Aphex Twin's
Drukqs
and finally got inspired to make some music of their own. Then, they heard some Godspeed You! Black Emperor and decided throwing speech samples in everywhere would be a great idea. And whilst all this is perfectly admirable – better those bands influencing someone than having to suffer through yet another uninspiring indie pop faux twee-fest or morose folk singer – things aren't quite there yet. These feel like the first drafts of a teenager, up all night playing on Audacity with loops and samples, then coming downstairs in the morning to play it to parents who've never wondered what Boards of Canada taking amphetamines with 80s pop stars would sound like, and feeling slightly ashamed of the tracks they were so proud of three hours earlier as they watch the faces of their first listeners fall. There is still a lot of work to be done. But it does show promise.