Mr. B The Gentleman Rhymer - The Tweed Album
Mr B is back, detailing life on the Chap-Hop throne with The Tweed Album. His familiar styling of genteel rhymes and infectious beats have now affected a fresher approach to his tunes, stepping back from the sampled Hip-Hop tracks that made his name. Rife with beats, music hall musings, carnival-esque refrains and the trusty ukulele each track serves as a vignette into the alternate universe of The Gentleman Rhymer.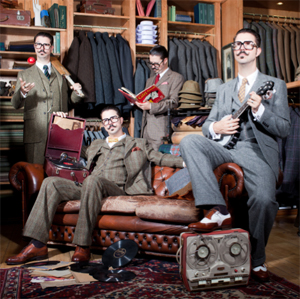 A hardcore beat pours through the speakers as a bevy of sound-bytes by fans and music industry types alike discuss the Chap-Hop title, making for a very persuasive current that lifts the title aloft and galvanizes its creator, heralding opening track '
I Invented Hip-Hop
'. "Imagine if Hip-hop had been invented during the Victorian era", muses one voice. Adopting the wit of a modern day Oscar Wilde,
Mr B
is surely the image of the upper classes, but with a twist in his psyche. Described by one voice as "John Shuttleworth crossed with Stewie Griffin, influenced by Dizzy Rascal and John Cooper Clarke" one gets the sense of what he is about before he even enunciates his first rhyme. Creating a messianic message,
Mr B
waxes nostalgic over his early days, "
When I was born up in the north end of Surrey, I got out of there in something of a hurry. For 3 wise men were waiting at the door, called Herc, Flash and Grand Wizard Theodore, bearing gifts of gold chain, street sense and murder". Perfectly at home with his accomplishments, as he insists "I invented Hip-Hop, I did it in my head…I made it up before I went to bed, with a cup of cocoa
".
'
Curtsey For Me
', with its plucky ukulele riff twinned with a dense bassline is met with a first rate sense of humour. Heralding his new luck with the ladies "
back in the day they were all nit-pickers, now they're up and down like a strippers knickers
" his turn of phrase can be rather bawdy, but his intelligent use of poetic rhythm doesn't let him down. 'Nicknackatory' effortlessly hits back at "
all the haters
" as he chats to his butler Carshalton, and describes his life of leisure: "
got a Japanese robot in a bow-tie to serve me tea, biscuits cake and sherry
".
You may be thinking
Mr B
is the 'poster Gent' for the upper classes, rubbing shoulders with the elite toffs we all love to hate. However, tracks like '
They Don't Allow Rappers In The Bullingdon Club
' prove his distaste for these fellows. Telling a tale of his run-in with this elite clubs more high profile members, Cameron and Boris get a ribbing in lyrics "
I have the relevant qualities, to be a Buller Boy, I'm disrespectful to those in my employ. I can smash up a lamp, or smash up a tramp, take cash for questions when I should be sectioned…use my breeding for party leading…take the spoils without a day of toil", summing up his sardonic tale by asking "and why would Mr. B hang about with such knobs?
". The tune is fitting, a sharp number employing jazz style keys convulsing into a show tune style, hemmed with a snappy beat and ukulele chimes.
In short, The Gentleman Rhymer is interested in having fun, being outspoken and detailing his adventures for all to hear. '
A Rummy Old Day
' perfectly captures the spirit of
The Tweed Album
, as he wakes up feeling "like a pig may have shat in my head", which we can all relate to! Upon being greeted by Carshalton, he is set to make the most of a hangover day, encompasses "the club" and "Edwards barge", his brethren knocking over a few proles along the way, not that he approves of course! A shimmering ukulele riff over a breezy bassline a la The Fresh Prince set up an instant infectious summer hit. Not surprising really, as he deems himself "The Fresh Prince of Leicester Square".
Mr B's almost anarchic overview of the life and times of a gentleman of leisure is humorous, light-hearted and mixed with that street sense of Hip-Hop, if indeed the basis of such a movement had been formed in Victorian England. Each track employs infectious beats, twinned with elements that are far more genteel, even twee. The resultant clash sets him apart from any other act or artist out there. The sense of Joie de vivre intertwining all
Mr B's
theatrical cameos is as infectious as the tunes that frame them. Don't just buy this album, buy the back catalogue, see him perform, and most certainly buy into this toff-tastic style. Tweed is in!