Moulettes - Moulettes (Balling The Jack)
If the Moulettes were a drink, they would certainly be Sailor Jerry's.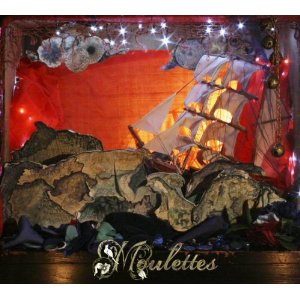 For those that don't know the French, "the feminine mussels" unveil their debut LP as if it requires snipping a velvet ribbon or smashing a hanging bottle of champagne on to its rear vessel the moment before play is pushed. Aptly enough, there's a small strand of ribbon holding the sleeve together. Sadly no champagne, alas.
These south coast darlings hold the most eloquently executed voices in modern folk, and extremely British ones at that. Kind of like a stereotyped American portrayal of an English woman's voice but in a good way obviously. There's an instrumental roster of cello, bassoon, fiddle, drums, percussion, guitar. Probably the biggest part a bassoon has played in popular culture since Peter and the Wolf and hopefully will detract from its humdrum reputation as one of the more forgotten instruments of the now. Leave that to the oboe shall we. And yep, there's a typewriter in this record too introducing the succulent single 'Horses For Hearses', an artefact that could arguably be in the category of musical instruments more than document processing devices these days. Times change, eh…
It's hard to devote absolute attention to the storytelling element of the Moulettes sometimes; there's so much going on in the interweaving tapestry of their sound you find yourself drifting away from the narrative of tracks like 'Devil Of Mine'. There are moments that ambush the ear and push you aside, like the sudden sweeps of glock and shrieks of the fiddle, the latter reminiscing 'The Devil Went Down To Georgia' by Charlie Daniels band (I'll admit, it made me want to listen to it, which I unashamedly did). There are also likings to the delicate stylings of Psapp with just as much production kudos, and more vaudeville leanings towards acts like The Dresden Dolls, but with more skill and flair for musical craftsmanship, one feels.
They take pride in their multi-part harmonies and vocal lines in a round. These take from the monumentally epic 'Requiem', sounding scarily like the result of entering an old 9-minute Metallica track into some sort Moulettes translating device. References to the four horsemen and seriously indulgent drum fills help prove this theory; in fact it makes the number twice as alluring. On the whole, the Moulettes boldly go from euphoric atmospherical twilight to knees-up cabaret ho-down grooves laden with frilly kicking decadence. If the Moulettes were a drink, they would certainly be Sailor Jerry's (with the old skool packaging of course), sweet, spicy and a tad nautical. It's all good elegant fun, and a fine, matured example of such.
Moulettes - 'Horses For Hearses (Single Version)' by Sotones