Monsters Build Mean Robots - WeShouldHave DestroyedOurGenerals NotTheirEnemies (NWFA)
Having been on what can only be described as ridiculously constant replay on the Bearded stereo, we felt it important that we talked about WeShouldHaveDestroyedOurGeneralsNotTheirEnemies before the record dissolved under the pressure of repetition.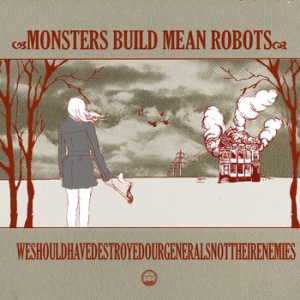 With their self-titled debut record,
Monsters Build Mean Robots
delved down a more electronic beats/loop path, but yet holding a faint grasp on what they really wanted to explore, gloriously uplifting post-rock ambience, something with which their second record cascades in abundance.
It probably won't be surprising that the Brighton band will be compared to such acts as Sigur Rós or Explosions In The Sky, but that is simply lazy criticism. MBMR have taken the staple that the aforementioned bands have lain down for the post-rock genre, and added a uniqueness to it that others have failed to grasp of their own; basically,
WeShouldHaveDestroyedOurGeneralsNotTheirEnemies
almost stands alone, and not just as another post-rock record. Also, being released on the superb independent label
Nice Weather For Airstrikes
adds more magic to it.
Opening track 'Song For The Generals' glides along blissfully with Pete Lambrou's delicate vocals holding you in its heartache, just as the orchestral section begins to build into its crescendo, and then it's all over, almost like a pop song, reaching it's necessary climax without being drawn out and lost in its own idea. A major stronghold that MBMR have is that a track such as 'Lament 77 (We Will Follow)' could so easily be played on prime time radio, as well as documenting the score of an independent glacial film. Perhaps some purists would frown upon that and argue that it's not the true essence of what post-rock is, but who cares what they think?
'Psalm 57 (Or) All That Gold Did Not Help Your Soul!' is probably the turning point for the record as it flips the album from glorious pop/post-rock crossover to an all out mesmerising, almost spell binding, emotional betrayal of what has come before, as the final two tracks delve deep into the post-rock blueprint, and come out ready to give you the shivers.
The vocals on 'The Witches And The Liars' are again absolutely heart breaking, as a chugging piano and echoing violins bring the track into its cinematic grandiose, as the hairs on your neck raise to attention and goose bumps shoot through your arms, imagining scenes of rolling fields, silent crying children, or explosions as the music builds and builds, before an unnerving sudden halt grasps you awake.
All roads lead to 'A Reverie For the Riots' which almost brings a tear to the eye. What is so special about this track is not just the harrowing vocals, delicately plucked guitars, orchestral destruction, or sweeping melodies, it's the percussion that really drives the song into the depths of your soul, carrying you on a wave of sheer joy, embittered passion, and a slight hint of aggression to boot.
And that's it, in just five tracks, MBMR have created what will be regarded as a little masterpiece, and having run out of superlatives to describe it, we're taking our smiles outside into the sunshine and giving the record a rest for a while. Whether MBMR have longevity and the creative outlet to continue this music for many years, we can only hope, but for now it's important to live in this moment, and this moment belongs to Monsters Build Mean Robots.
Monsters Build Mean Robots Links