Melt Yourself Down - Melt Yourself Down (Leaf)
The multicultural, multi-instrumental sextet explode out of your stereo with their colossal self-titled debut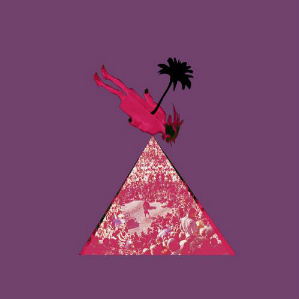 From a listener who has previously seen this act live, the following review will inevitably be biased towards the sonic and physical awesomeness of
Melt Yourself Down
. Complete with a
Ronseal Wood Stain
-style moniker, the band consists of musicians who have played among the likes of
Acoustic Ladyland
,
Polar Bear
,
Zun Zun Egui
,
Hello Skinny
and
Mulatu Astatke
. The attributes of all these acts amalgamate to create such a tremendous wrecking ball of sound that it's almost punishing to the human ear.
If anyone was somewhat dubious after catching their appearance on
Later… with Jools Holland
this past May, with sub-standard live sound and a tepid, static audience aside them, then this mini-album will justify the roaring chaotic stage animation they demonstrated. The term 'mini-album' applies, since it contains fewer than nine tracks. However, if this definition is no longer relevant, then albums are definitely getting shorter.
The double attack of tenor sax is truly a vital weapon throughout, from the catchy refrain of opener 'Fix My Life' (which boasts a mega trip-heavy video that everyone should watch - provided they're not prone to seizures) to the crowd-inclusive stabs of ender 'Camel'. There are definite Balkan and afro-beat styles laced across the entirety of the album which the sax sounds mostly take care of, all but removing the necessity for a guitar at any point.
The line-up is completed with drums and percussion, including multi-rhythmic timbales and congas to add a Latin and Cuban infusion. A further rhythm section of throbbing drum 'n' bass and punk-fuelled bass guitar is present alongside psyche-dub effects that recklessly bounce off the walls of sound. The icing to what is a perfectly layered cake of mind-blowing noises is added by the maverick stylings of
Kushal Gaya
, who sounds like an unhinged South Asian
Fela Kuti
in the 21st Century (for want of a tighter pigeonhole). Every instrument has its lead part at some point – this is important when each musical component is mucking in together to prove their worth in a respectful manner. At no point during this album does the music seem too much to take in.
Singles 'Release!' and 'We Are Enough' provide contrasting tasters with a deep trancey journey into otherworldly realms via a hypnotic infinite spiral and an impossible-not-to-dance-to rhythmic parade of brassy party punk, respectively. Other highlights that shine through include the dark and well-crafted 'Tuna', with its manic progression into a frenzy of screaming horns, and the token slow number 'Free Walk', which seems at first like an unrequested pit stop from the stupefying musical hubbub. Only after a small handful of listens does it truly blossom into a beautiful album track, if not one for their live shows.
On top of all this verbal celebration, Melt Yourself Down has only just started the year and already built up a solid fan base through ample touring and media coverage to help cement their stamp on the world. The many-a-time coined phrase "see them now before they explode" couldn't be stressed more and the importance of this release comes under that command. Come and get immersed in this epic soundtrack to a deranged carnival in a dystopic future.