Matt Berry - The Small Hours (Acid Jazz)
Award winning comic actor returns to music with highly accomplished new LP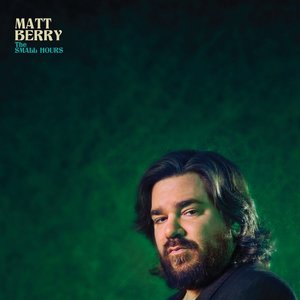 The king of suave
Matt Berry
makes a return on the musical front, putting his comedic acting trousers to one side for a minute. After writing and starring as the lead role in a trilogy of the triumphant hit series
Toast Of London
, it would not be unforeseen to be in receipt of a comedy song collection here. Especially considering the ironic love parodies present in his shows, such as the classic 'One Track Lover' from the cult series
Garth Marenghi's Darkplace
. Does this happen though? Heck no. You should be able to tell from the man's programmes that he has some rather credible songwriting kudos stashed in those big beefy sideburns, and this is a prime opportunity to drive that forward.
Matt Berry's voice is a tough cookie to break down. I guess if you've seen him on the box then it's instantly recognisable. However, for those who are not versed in his TV work already, it's like a sleazy yet well-spoken crooner striving in the mystic era of youthfulness. We hear thick vibrato riding on his confident, bold tones – the musical equivalent of a heavily glazed ham hock. 'One by One' opens the proceedings and the vocals help ooze the heartache like a leaking left ventricle valve immediately. There are probably a few too many "Coffee & TV" style drum fills on this track but it definitely makes amends with the wacky conga-led funk outro – one of many oddly satisfying tangents from
The Small Hours
song set.
'Beam Me Up' boasts a mighty majestic pop chorus, aided by some sickly reverb-doused keys and even a key change. Think recent Tame Impala meets The Divine Comedy. The motif of said chorus re-occurs a few tracks later, in 'Night Terrors'. Clocking in at just under ten minutes, it wins the lengthiest track of the album contest, and best title too. Clad in jazz-spurting brass, evocative flutes and a sense of je ne sais quoi, you'd be nothing short of a fumbling fool to press skip. We hear the tune change multiple times before all the parts culminate in a cop-show-car-chase-soundtrack style frenzy. More so than others, it's this tune that gives off a vibe of his live show, where you'll catch him firmly fronting his band The Maypoles.
'Obsessed And So Obscure' is one of
The Small Hours
' twinkling gems, shining near the end of the LP as a reward for the committed listener, in a modern day sea of dangerously low attention spans. The lyric "
You and me and Christopher Lee
" is one that hooks on well. It's one of the few tracks that wouldn't sound horrendously out of place on a Nuggets compilation. 'The Peach And The Melon' is another one, glistening with psychedelic charm and brought to character by its fantastical and seemingly nonsensical lyrics. Oh, and more springy reverb treatment! Attention needs to be paid to the sonic qualities of 'The Small Hours'. The psychy touches range from excessive (in a good way of course) to subtle, for example the ethereal keys in the attractive ditty of 'Say It Again'.
A lot of the content might seem cheesy to some, and it's pardonable to think that it might be a tongue-in-cheek outing due to his humourous reputation - but there's more than enough evidence to say that it's anything but that. Surely, even a man like Matt Berry must have genuine feelings and creative ambitions that he should be allowed to pursue, right? Not that this isn't a fun record, but that's up to the listener to decide for themselves, as always.