Mark Kraus: The Story Of Everything (Self Released)
NYC based neo-folk singer-songwriter gives the form a fresh perspective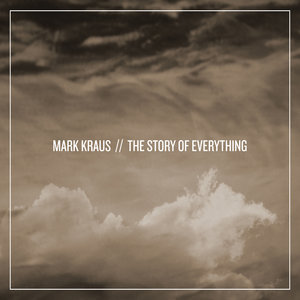 When
Mark Kraus
sings about spinning the black circle on his song, "Put An Old Record On" it's hard not to imagine that he's talk about his own album. I mean, who else should he be advocating we listen to?
Then you listen to the song closely, place your finger on its rapid pulse, and you realize that he's right on. We should open our eyes. We should all invest our attention in
The Story Of Everything
. In so many ways, Kraus, a clear-eyed, honest songwriter harkens to old time music, old time creative values. So often that branding of old passes off as antiquated, but I'm inclined to believe that these are
more timely
songs now, age of digital saturation and confusion.
Kraus, a Brooklyn, New York neo-folk artist, offers a collection of frail tales, each one exploring aspects of the human condition. "The Depths" his opening track on
The Story Of Everything
is tender, raw moment with the skin peeled off. It's painfully thin, vulnerable. Kraus belongs to a hurt eyed tradition of sobriety battlers, as described on "The Weekend" and legion of nostalgia revelers.
He's also got a taste for the upbeat, a few fun songs like "You And The Boys" (arousing memories of bands like Aztec Camera and The Lightening Seeds) with upturned eyes, searching for a better world to line his record's mostly introspective periphery. The song has such a gentle tempo, always striving. Like the artist himself. Striving to understand the why behind it all.