Los Lobos - Tin Can Trust (Proper)
Who said anything about 'one hit wonders'?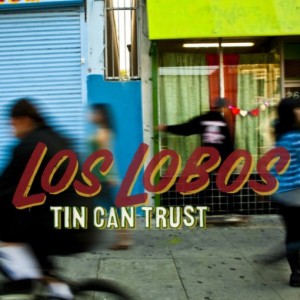 It would have been so easy to dismiss Mexican-influenced, American-based Los Lobos as 'one hit wonders' back in 1987 when they scored an international hit with their cover version of 'La Bamba' from the soundtrack of the film about Ritchie Valens. After all, they were a rock band with a tendency to sing in Spanish and not all rock fans could cope with that back then and besides, there were plenty more guitar-led bands for us to follow.
But times have changed and we've become more open and inquisitive about world influences within our music, but it seems Los Lobos (The Wolves) just continue to do what they do and do it damned well – traditional rock in a laid-back style. They seem to care nothing about music trends and anyway, you can't have a return to form if you've never lost it in the first place.
Their first independently-released album came out in 1978 and they've had an impressive output of studio, live and compilation albums to their credit, plus more soundtrack work such as their contributions to Robert Rodriguez's
Desperado
in 1995. Outside of the band, guitarist and vocalist David Hidalgo has been in much demand for session work from the likes of Bob Dylan, and it is not difficult to see why. Certainly he impresses here with some sharp, attacking slices of guitarwork together with his natural, soulful vocal textures (Steve Winwood is perhaps the nearest equivalent on this side of the Atlantic).
The opening track 'Burn It Down' more or less establishes the pace of this album with guest backing vocalist Susan Tedeschi adding additional texture. The 11 tracks feature a combination of writing credits from Hidalgo, Cesar Rosas and Louie Perez. The band's line up is competed by saxophonist Steve Berlin and bassist Conrad Lozano, who could never be considered as mere sidemen in a band that goes for an overall sound and hits it song after song. There are a couple of songs sung in Spanish and a blues rock instrumental – 'Do the Murray' – which rolls away in a definitely non-filler capacity in the same way John Mayall always managed to impress way back in his early Bluesbreakers' days.
Los Lobos opened on tour for The Grateful Dead and here cover 'West L.A. Fadeaway' from the Dead's 12th studio album 'In The Dark', while a further link with that great band is provided by the collaboration with lyricist Robert Hunter on 'All My Bridges Burning'. This really is a consistently good album from a consistently good band. If
Tin Can Trust
, available on CD and as a 2-LP vinyl set, is your introduction to Los Lobos you have got some catching up to do. For starters, you might like to try five of their classic CDs in the Original Album Series at a very reasonable price.