Lithics: Mating Surfaces (Kill Rock Stars)
Oregonian quartet deliver a sterling set of post punk inspired alt. rock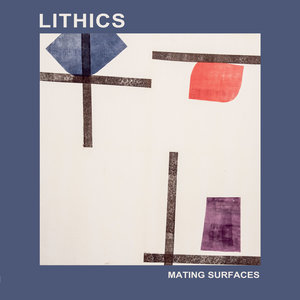 Portland's
Lithics
delve into the world of Neo-post-punk on their fourth release on Kill Rock Stars. While it feels quaint to connect a release to its label these days,
Mating Surfaces
, all twelve smart and snide tracks, feels like a Kill Rock Stars album
The first hit from Lithics is the raucous and biting, Excuse Generator which melds spare instrumentation with confrontational bombast. Right off, you know the ride you're on, whether through the delightful contrasts between robust, throbbing bass and drums or the brittle and commanding guitars lines. When Will I Die feels similar, featuring a wildly unhinged solo toward the end.
The vocals on this record are so satisfying, both in content and performance. Everything hits the mark, from the itchy, surrealist refrain, '
specs on me
' on Specs or the near catatonic delivery on Home a track that manages to get under the skin. Like their 80's forefathers, Lithics fuses deadpan delivery with bizarre topics, while laying it over No Wave instrumentation.
Among the many qualities of
Mating Surfaces
is the jittery variety of rock anguish they demonstrate. They're keen at breaking their mostly brief songs into delectable and spastic fragments. The album's longest track Boyce opens with a stomping, Les Claypool inspired bass before cavorting off into a strange guitar solo that pulses out to the end. The use of all that space on the song is strange (it is more than twice as long as most of its contemporaries) as though, all of a sudden, brisk and efficient went out the window.
All together,
Mating Surfaces
is a throwback record that will satisfy. This is a record for fans of everything from Captain Beefheart to The Fall. The way Lithics experiment with straight up, post-punk feels refreshing.
7