Lessons In Time - Swords and Spears (Forthesakeofthesong)
As if after a particularly wild night out with a tape recorder and a toy harmonium, he'd unknowlingly woken up on the lo-fi bandwagon with no idea how he got there.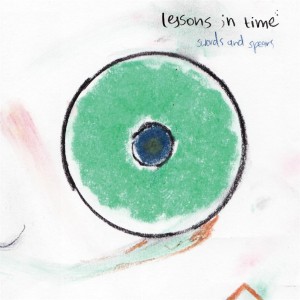 There's no such thing as pumping up the volume on Lessons In Time. You could turn it up to 11, Spinal Tap style, and it would still come off like birds singing from the trees. Albeit robotically-modified ones, tied together with broken guitar strings or some such haphazard mechanism. See somewhere in the no man's land between folk and experimental (but not-so-noisy) noise, sits this young Australian troubadour.
Mashing together found sounds and acoustic twangings to make something unwittingly 'cool', Lessons In Time, aka the 19 year old Blake Wassell, comes across as a musician who is unknowingly jumping on the lo-fi bandwagon. As if he'd had a particularly wild night out with a tape recorder and a toy harmonium, and woke up on the back of moving truck full of oddly pale and bearded bedroom musicians with absolutely no idea how he got there.
The albums' strangely catchy single 'You Dance and You Dance' is full of handclaps and a rogue female voice that lurks in the background before jumping to the forefront - creating drowsy harmonies or quirky scats. All frayed edges and jaunty lines, Wassell has left the bottle of gloss firmly sealed whilst still defiantly maintaining the pop.
Sometimes, the songs on
Swords and Spears
take a moment to get themselves together, There's a bit of clatter, the odd violin chord or foot-tapping that then gives way to the tune itself - reminiscent of the in-between tracks regrouping and tune-ups often witnessed at live shows. 'I Am Now An Empty Well' even goes through a mini accordion recital before getting down to business.
It's this haphazard approach to recording that gives
Swords...
its charm. If you've ever had a friend who's primary fun in life involves sitting in an airless bedroom, getting ear-achingly high and playing around with makeshift equipment to create 'futuristic music', the Lessons In Time experience will seem vaguely familiar. But minus the tedium of having to watch said friend fiddle with mysterious knobs while you wait in hope of a toke.
Also, this 'futuristic music' isn't inaccessible noodling more suited to moments of suspense in hammer horror films than to casual listening. This is eating strawberries on blankets in the grass music. A somewhat leftfield blanket. An intellectual blanket - intricately woven from the fibres recycled from plastic carriers bags - entschuldigung, this is getting a bit abstract isn't it?
Blanket-schmanket. There's guitars and violins, accordions and feedback, pots and plastic buckets, reverb and fuzz. Not necessarily in that order, or any order at all, but there's a crafty songwriter in the midst and all the songs have beginnings and all of them have ends, which is probably the most important thing, isn't it?