Laish - Laish (Willkommen)
Willkommen Records offer up another folk scene of sonic beauty.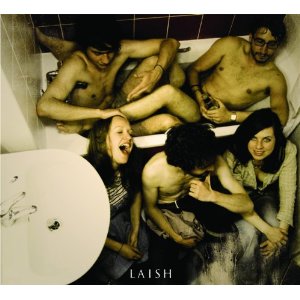 Danny Green clearly wins at harmony arranging. Worthy of some kind of harmonic rosette is his self-titled debut under the musical moniker Laish. It's a tricky path after someone tags you as nu-folk (or if you insist, "advert-folk") but he manages to overcome such a cringeworthy pigeonhole with utmost comfortability and freedom in playing, with a large mug of tea proving as a desirable accompaniment for anyone listening.
The album starts with a lo-fi Andrew Bird-esque whistled tune as if it were captured in a sea wind on the opener 'Song On A Transistion'. Following that, 'We Speak The Mantra' is to the author's knowledge the first song you'll ever hear containing a verse about Warrington, and warning such people of such Cheshire town "selling sea salts to people who miss the ocean". The first two boast the most charm quality on instance, not only lyrically but showing he clearly has an astute sense of the old finger pickery motion too. The rest take some time to get to know, and require a certain mood to do that in. It definitely dithers towards the end a little but 'The Happy Accident' reassures us with a build up finale type affair that augments your trust in the first sentence of this review.
Laish
has a touch of Beirut in it, judging by its nod to light fanfares and a sense of uke-based sensitivity. Say if Beirut were regal monarchs and Laish was an modest servant working himself up through the ranks to minstrel status... perhaps. Like Zach Condon too, Green is a massive warbler. There's nothing wrong with a bit of indulgent vibrato in your vocal now and again but the one possible fault of this album is that after a prolonged listen it can get too much for its own good, like some sections of Radiohead's
Hail To The Thief
, or anything by Fanfarlo. Which is great for pro-warbling types but even noticeable to anyone not paying too much attention. 'Warmth And Humility' is topped with warbles so severe they slightly touch on the old Mongolian throat singing or Bowie with the modulation up full whack. However, it gives the subsequent instrumental breaks more significance, which are especially lush.
All around he has clearly merited the Wilkommen salutation, after much activity involved with other labelmates Sons of Noel and Curly Hair. This album is a thoroughly honest, refined and organic demonstration of modern stripped down songwriting, something he developed a drive for after gallivanting around India. It does make you wonder how a certain eastward journey can re-shape one's outlook on creating music, at any stage of a career. Just look at Kula Shaker. Actually, don't.