Kitten Forever: Pressure (Guilt Ridden Pop)
A vibrant gem of a record from all-girl US punk trio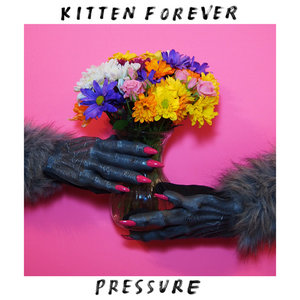 Pressure
consists of thirteen tracks of gloriously repetitive and contagious grunged up punk tunes, the frenetic energy and enthusiasm of
Kitten Forever
at the core of it all, carrying the album along.
Each track is punchy and short with most tracks barely hitting the two minute mark, adding to the excitement and inattentiveness of the album which is streaked with wailing feedback, melodic shouty vocal lines and bounding bass.
The lyrics range from vacuous and fun to thought provoking with 'Rat Queen' offering the pinnacle of poetic anger-laced word play. Blood, pain, pleasure and parties feature heavily and there is real personality and substance between the lines, the overriding tone feisty and furious but inherently fun.
Reassuringly pumped up and loud, there are some delicious riffs that wriggle through each tune 'Black Ice' in particular exhibits some really infectious bass lines. 'Little Beasts' is another stand out track with its driving pummelling bass and cacophonic drums.
Tracks such as 'Prey On' feel much fuller than the scarcity expected from a 3 piece. The double-tracked distorted bass sound, the punchiness of the vocals and the full-pounding clattering drums create a beautifully swollen sound.
Each track resonates with the same startling breed of furious feminist punk, but they seamlessly slip between instruments. The three girls (Liz Elton, Corrie Harrigan and Laura Larson) divide up the vocals and basslines with Laura and Corrie providing the drums.
What works so well is that they share very similar styles and it's pretty hard to differentiate between who is playing what. That said, the sound is uniquely Kitten Forever, no matter who takes the bass or vocal.
Corrie's softer more coquettish vocal style still packs a punch, especially when she takes the lead vocal on the title track. It's the energy, fury and ability to not take themselves too seriously that unites this powerful trio and makes
Pressure
such a vibrant gem of a record.