Kings Go Forth - The Outsiders Are Back (Luaka Bop)
Having just featured on the Independent Music Podcast, Bearded takes in the full blow of this soul-swinging summer record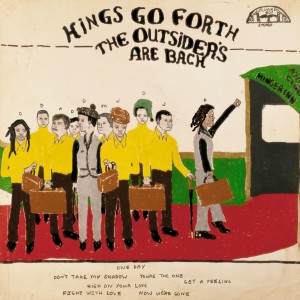 This is a mighty summer album. So mighty in fact that it hardly lets you lay back and take the sun in, you're too busy dancing frantically to its rocking and a rolling oldsmobile soul beats.
The Outsiders Are Back
is the debut album of an intergenerational mish-mash of musicians from Milwaukee, Wisconsin, a city best known for gracing US college kids and cheapskates alike with the brewed delights of PBR. Supplying each track with just the right tone of vocals for this brand of old school soul revivalism, lead singer Black Wolf is, as the name suggests, a blues and R&B performer who's been working the floorboards since the 70s.
Founded together with local rare groove record storeowner Andy Noble, Kings Go Forth plays a special sort of funk. Musically so well arranged, it transports you back to a Technicolor episode of
Soul Train
– an era where it took a few magical musicians more than a well-tailored suit to make your mark. Every flutter of a flute, each blast of horn – it sounds spontaneous but it's required some serious skill. A familiar rebirth, not least seen from the likes at Daptone, it's a sound that is hard not to like.
The Mayfieldisms of opener 'One Day' throws you right in at the deep end with a momentum that is intensely maintained throughout. Whilst the musicianship sparkles and charges to crazy heights, it can be hard for the emotional connection of the lyrics to match the same fervour. It's tough for overtly retro records to steer clear of sounding too much like a tribute act - even if they're the best tribute ever - and Kings Go Forth walk a very thin line on tracks like 'You're The One' or within the raggasoul confines of '1000 Songs'.
But with the sinister leanings of 'Paradise Lost' or Black Wolf's despairing falsetto on 'Fight With Love', the tribute trap stays firmly shut. And one things for sure, if these guys hit the summer festival circuit, you do not want to miss it.