Kids In Glass Houses - Peace
Pop infused punk rock party anthems from the Cardiff quintet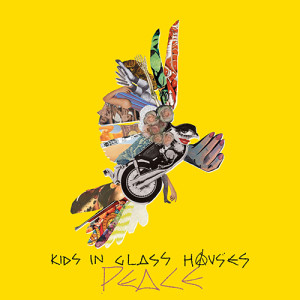 Back with their fourth studio album (or fifth if you count explicit
Dirt
)
Kids In Glass Houses
have a guilded edge to their style in their utilisation of synth and glassy eyed production.
Peace
has clean lines and teenage rebellion oozing from it, with that old pop-punk sugary crust that makes every tune infectious and party fuelled.
While not breaking genres, or smashing their previous styles, the sound is still fresh, spilling out of the speakers in a rich wash of colour and energised angst.
Title track 'Peace' crystallises choral cries of rowdy men in a testosterone-feasting earworm. Chunky riffs and crooned lyrics texturise the backing vocals 'shaking in the shadows', it's like Billy Idol's band gave them some tips!
The sense of energy and half formed anger colours the album. A whirlwind that sets up the timbre, causing you to scissorkick around your room, punching anything close to hand.
'Drive' backs this up nicely, delivering more crunchy riffage and a relentless driving beat. Lyrics '
found love in a dirty bed
' and '
feeling so good in black and blue
' hint at rough sex. Bit dark boys, but OK!
But it's not all fuming sexuality and synth vibes, oh no! Sometimes these guys dangerously dabble with the pop elements of our chart toppers with 'Set Me Free' and 'Novocaine' both sounding like a Katy Perry-cum- YouMeAtSix lovechild; punk disco and kind of edible.
Even Aled Phillips' vocal stylings sound vocoded and higher as he trills '
You're Novocaine, you numb my body through
'. Aled Perry! That could have been written about Russell Brand. The point is continued in 'Set Me Free' its kaleidoscopic beat keeping time with the stretched out key-tar ambience. And a hint of anger too. 'Cos y'know.
Tip-off for the next single meanwhile goes to 'Runaways' for its teenage rebellion frayed edges. The least produced track here arguably, if you've had a shitty day and your surroundings just aren't doing it for you, sing it with me now 'RUUUNAWAAAAAAAAY!' Yeah, it's pretty damn satisfying.
Speaking of which, 'VIP' holds some of the Kids' most genius lyrics- '
If all men are created equal, then who are all these V I People?
', it's got a strong slamming bassline, along with some pretty cool ghostly echoes of strings in the refrain.
'Nightcrawler' throws in the obligatory slow self-effacing track. 'Fuck me, they aren't the one, fuck them I'm alone!' Paraphrasing of course, but you get the idea.
Still, it earns its place on the tracklisting as the fall before the heights of the closer 'I'm A Wake (You're A Real Party)'. Sounding more like the badassery of the likes of 'Easy Tiger' from Smart Casual, it's got a nice break, coming close to the Amen break, and a bubbling brook of a riff that is a real pleasure to skunk about to.
So there you have it. It's a pretty little affair, very nostalgic if you like that kind of thing, but with the added hit of Idol-ness and sweetness in the rage that cuts through, Phillips' vocals are as always beautifully delivered and while the lack of their mean drumbeats that colour their first record sucks a little, it still has clout.
The infectiousness of the arrangements and their relentlessness makes for some pretty good party anthems. Coming to a punk disco near you!
Kids in Glass Houses Links