Just Walden: High Street Barton Blues (Self Released)
Impassioned piano powered alt pop from the US outfit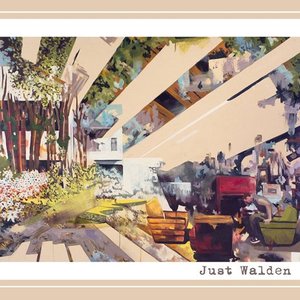 Sometimes we forget that art is a journey, one that is frequently undertaken without a map or a compass. The approach to creative fulfillment, let alone full-fledged critical and financial success, is often circuitous at best. More than a few artists circle around and around on a slow, concentric approach to their centre. More than a few never get there.
One spin through
High Street Barton Blues
and you get a feel for the life voyage undertaken by Danny Ferraro and his long time band mates. Although they are all relatively young men, the soul of
Just Walden
is seasoned and sage even. Their piano driven songs are spacious compositions, urgent and dreamlike.
As principal Just Walden singer and songwriter, Ferraro has followed a curious path on his way to the front of the stage. While the journey has indeed been admirable, as I learn talking to him, it is outstripped by his outlook on life, music and the process of laying your heart down on a track for the whole world to see.
Bearded: You worked a real, corporate job on your way up. It even took you away from your music for a while. Describe how the pressure of the nine to five, button-down world affected you creatively.
Danny: Well somewhat ironically, I think I had my biggest growth as a piano player and as a songwriter during the three years I spent working in London. I had a lot of pressure on me everyday for my job, and music was my only release. I would come home and go straight to the piano.
Earlier in my career, I didn't have as much responsibility and I felt more at ease, so I didn't feel the need to turn to music as often. But as I got older, I looked around and found less and less things that actually meant something to me, that genuinely made me feel at peace, so I just kept going back to the piano.
My friends will tell you that I sometimes would turn off my phone the whole weekend, because all I wanted to do was stay at home and work on songs, not distracted. I grew a lot technically as a piano player, and also figured out what worked well for my voice and for my songs.
How did it feel to see your ex-band mates keep on while you were working as a trader for Goldman Sachs?
I was very happy for them. When I first moved to London, I had every intention of continuing the daily grind. I didn't feel like I had much to offer musically at the time, so I wasn't feeling regret or anything like that. We had a big group of musicians back in New York during and after university. Many of us just stopped all together after graduation so I was glad to see some of us had kept on. In the end, it inspired me to take the leap for myself.
Talk about how you went about assembling members of your first band.
I came back to the States for Christmas break this past year and I was hanging out with Taylor in Brooklyn. I told him I had about 20 new songs I had written over the last 2 years and I was thinking about producing them into a professional album. He offered to help produce it and that was that. Then Alex is one of Taylor's friends from primary school in Austin and used to live with us in New York, and then Taylor's brother Aaron also used to jam and live with us in New York so it was pretty smooth and obvious how we would set it up.
And then further, about re-asserting yourself.
The guys were great about letting me see my vision out. I think the benefit of having two separate bands is that every member doesn't feel as compelled to assert their own creative spin for every bar and measure in Just Walden. Whereas if we only had one band, there's always that struggle to have your voice heard, and put your own stamp on things. The guys knew I had given up a lot to come make this album, and they knew I had a definite idea of what I wanted so they just wanted to help me see it out. They gave a lot of great ideas and advice along the way.
From the very first song (an instrumental which nonetheless seems to allude to that Goldman Sachs experience) it is obvious High Street Barton Blues is a grown up album. How did you accomplish that in what amounts to a debut?
Well in some ways it wasn't a debut for me. I put out an 8-track solo EP during university, and also recorded an EP with the band I was in at the time. So, I had experience in the studio, and I was always recording stuff at home with my laptop and what not. But I agree that there was a lot of maturing that happened between then and this album.
I think it almost always starts with the songwriting. I think my lyrics became a lot less direct, a bit more symbolic, more layered. And then in terms of production and arrangement, I think we've acquired higher standards for quality and professionalism, as we've gotten older and more experienced. I feel like that's a very natural development: it'd be very boring work if one were content to just do things the same way and not try to get better or reach new heights.
Can you talk about the influences?
Every time I record a song, my goal is to make something unique, something that isn't already available. That's what I look for when I listen to other people's music. During the songwriting and production process of this album, I was listening to a lot of LCD Soundsystem, Arcade Fire, Frank Ocean, Vampire Weekend, Haim, Foster the People, Kanye West, Wilco. But life long influences? It's pretty hard to get away without mentioning the Beach Boys, Beatles, ELO, Lucio Battisti.
A great deal of the material comes from your time living and working in London. Did you feel like the experience of being an outsider informed your songwriting?
Funnily enough, I've actually lived in London longer than I lived anywhere else. I've moved over a dozen times in my life. This was actually my second stint in London; I spent three years there as an adolescent. My Dad's job first brought us there in 1998. Something about London always makes me feel so at home. It helped that I lived a stone's throw away from the house where I grew up. So I was always being reminded of my childhood, and it was like coming full circle.
I will readily contend that it's the best city in the world, and I don't even mind the weather. The feeling of being grounded there, and knowing the place well, and having a supportive group of friends and family, helped give me the confidence to pursue music further. In New York, I was surrounded by a bunch of talented musicians, who were all light years ahead of me. It was hard confidence-wise to get off the ground but in London I had room to breath and grow. I hope to make it back there again, although London is a lot harder to afford on a musician's salary so it might have to wait...
Talk about the dream that sits at the center of the Just Walden story
.
I don't really think it's a dream anymore. Just Walden is forgetting about the outer pressures on you, embracing your own path, and most importantly, actually going down that path. I might not be able to afford a fancy house and car, but I'm waking up each day and working at something that is extremely meaningful to me. The goal has not and never will be to 'make it'; to get five number one hits, and sail the Mediterranean with the rich and famous. This is it. I couldn't do anything else. We, of course, want our music to be moving and to make an impact on a number of levels, but it's important for us not to confuse the goal with the results.
If you enjoy your work, and it genuinely excites you, then it's probably good music and worth doing. If you're uninspired and not enjoying the work, then it's probably bad music and not worth doing. Right now we're learning a lot, coming up with exciting ideas each day, and getting better along the way. What more can we ask for? I'm certain everything else will fall into place in the end.