John Helix: Chronic Happiness (Self-Released)
Impressive set of bittersweet seventies influenced pop-rock from San Diego native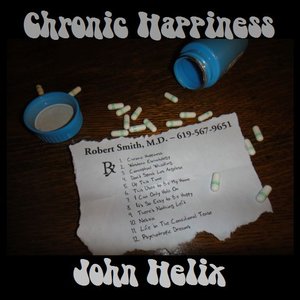 The self-titled track to
John Helix
's album
Chronic Happiness
bursts out with an impossibly beautiful, cascading piano roll, achieving that Paul McCartney-post-Beatles grandiosity. Almost silly, yet deeply affecting. The singer tells us, without reservation or waver in his rich voice, that happiness is the end goal of this journey he's about to tell. There is boldness in being this clear, this brazen about happiness; rock music simply does not view such emotions as commodity.
Helix does, however and his album is a showcase of strong, bittersweet seventies influenced pop-rock gems. This isn't to say that there aren't a few down in the mouth moments to give the album dimensions. Some of his tracks, like "There's Nothing Left" feel like soft rock spins on Elliot Smith but he ultimately comes back to idealism as his root cause. On the acoustic "Conceptual Whistling", he spins the line "
Stop this world/I want to get off
" a familiar, yet not insincere, refrain. Helix goes on a little bluesy with "I Don't Speak Los Angelese" exhibiting a sense of humor about the oft-lampooned, parody worthy city.
Helix describes his sound with the German term,
weltschmerz
, loosely translated as romantic sadness, sentimental pessimism. I don't gather much of the pessimism from
Chronic Happiness
but there is more than enough sentiment, romanticism and sadness to go around.