Joana Serrat – Cross The Verge (Loose Music)
Beautiful, bold Americana from an exciting European talent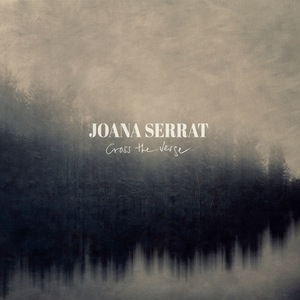 Here's one for the springtime; a sweet, earthy record that eases itself out of the soil with the beasts and seedlings. A wistful country-folk album recorded by a Spaniard in French Canada. A forest of gorgeous melodies, bright steel guitar, echoing harmonies, and driving cosmic American rhythm section.
It's been two years since the Primavera Sound Festival put out
Joana Serrat
's
Dear Great Canyon
on their El Segell del Primavera label. Two years spent maturing her sound and getting comfortable letting her songs breath. While
Dear Great Canyon
was packed with slick verse-chorus-bridge-chorus pop songs
Cross The Verge
is notably lighter on vocals. The compositions here are peppered with short instrumental breaks that leave lyrical phrases hanging in the air. The mood is more introspective as well; openness about insecurity and yearning permeate her lyrics. This cold, hard look at the cold, hard facts of being never gets heavy though. It's sweetened by Serrat's warm delivery. She has this coy, breathy manner that reminds of Beth Gibbons' solo material. Like Gibbons she also possess that rare talent to make fragility beautiful and relatable.
Wrangling Montreal's Howard Bilerman in to produce this record at his Hotel2Tango studio is a smart touch. The former Arcade Fire drummer has excelled in producing crisp, analogue recordings for The Dears, Wolf Parade, and Greys. Here he brings that tape warmth to build a gentle force behind the Americana lilt that runs through the record.
In a world where any song with three major chords and a banjo gets called 'country' its refreshing that Serrat's melodies are far more traditional than the contemporary arrangements imply. There is real old-time ballad phrasing is songs such as Saskatoon (Break of Dawn) and Solitary World. The latter of those records having a timeless quality, you could imagine Loretta Lynn recording it in the 1970's as much as the Cowboy Junkies in the 90's. The penultimate track shares it's name with the album and is arguably the finest cut. It's a lovely slow burner with this deep refrain that's crisp with fizzing cymbals and spring reverbed guitar. It's an impressive, affecting track that showcases a talent that is ready to take the stage with the best in the genre. Americana fans should try and seek out Joana Serrat on her upcoming UK tour, this may well be the last chance you get to see her in such intimate venues.
Catch Joana in the UK at the following dates:

7th May- Manchester, Gullivers
9th May – London, Slaughtered Lamb
10th May – Glasgow, Broadcast
11th May – Edinburgh, The Electric Circus
13th May – Bath, Chapel Arts