Jherek Bischoff - Cistern (Leaf)
LA based composer's new set treading gently between terrifying and stunningly symphonic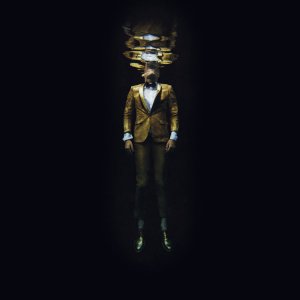 We'll start with a brief introduction to
Jherek Bischoff
. He's a composer, a multi-instrumentalist, a producer, arranger and songwriter. He comes from a big muso family and has done more collaborations in his time than Tom Jones and Wyclef Jean have done put together. Fun fact: he used to be part of Casiotone For The Painfully Alone, just to fish that one out of the mid-noughties electro swamp. However, we're to steer away from the trivialities immediately and wander deep into his roaring, pumping engine room of a musical brain.
While it would be fitting to refer to JB as a composer more than a solo artist, it sounds like it would be a cheap pop simply dubbing it "chamber music" or even "modern chamber music" (that somehow seems a bit patronising – of course it's modern, it's just been released). There's something a bit more valuable and personal here to suggest that it comes deeply from within. The back-story to the record furthers this point - while Bischoff was growing up on a sailing boat, he would often compose music in whilst in the cistern - assumedly for the same purposes people sing in the shower. So, if you like, you could probably get away with the term "waterproof chamber music".
The two focal points of
Cistern
that deserve unconditional hard love are undoubtedly 'Closer to Closure' and the title track. The way the latter structures itself is amazing – there's a certain motif that comes round in a cycle and it's constantly evolving every time with added string and brass harmonies. The end result is euphoric. The former develops in a similar way that could also be compared to the works of Max Richter or Steve Reich. Pizzicato strings set the pulse and haunting melodies wistfully helix around them. 'The Wolf' - akin to the similarly named theme from Peter and the Wolf, and that geezer out of
Gladiators
with the dodgy ponytail - is designed to frighten the willies out of you. This worked a treat while penning this review of course. It helps to have no distractions while writing of course, and to be left alone in any environment with this arrangement of glacial atonality is an unsteady situation to say the least.
It helps a lot when an album reviewer talks about the first and last track – this is important because one way or another the opener is there to reel you into a new musical journey, and the ender is supposed to cast you off leaving you soaked in eargasmic inspiration. The mechanical frenzy of hammer instruments in the opener 'Automatism' gives it an eccentric nature, which makes it hard to not to set the brain to "curious" mode instantly. Modestly sprinkled with strings and piano, 'The Seas Son' is a refreshing lull, intent on leaving the listener in a calm, reflective mindset concerning the aforementioned movements that have preceded it.
The mood that Bischoff's music creates treads gently between the lines of pure terrifying and stunningly symphonic. Emotions are put on the front line throughout because
Cistern
has the power to inflict tears, raise hairs and goosebumps, and even encourage a smile or two.