Is Tropical - Native To (Kitsune)
Is Tropical begun making waves with a steady drip of frosty synth filled performances in the winter of 2009/10. Then they disappeared. Well, apparently that was just to heighten the anticipation for their triumphant full length debut release. So here we are, 18 months down the line. Was it worth the wait?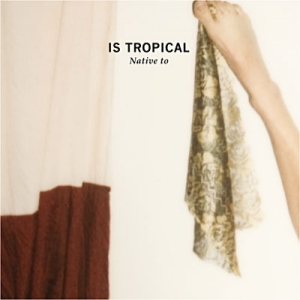 No, as it happens.
Native To
is a truly underwhelming record. Uninspiring and tepid, until suddenly it's over. Having never met the band on a personal level, it's very harsh to judge, but this album reeks of skinny jeans, scruffy hair and ironic cardigans. There is very inorganic and hollow feel to it from start to finish and it leaves the listener badly needing something with a bit of guts, some bottom end, and maybe a hook, if its not too much trouble?
The vocals seem to be constantly attached to the synth top line, much like an affectionate couple holding hands for fear of losing each other. The drums meander along sedately, punctuated with the occasional glitch-loop thrown in almost out of sympathy. The guitar fills any space not occupied by a tinny synth arpeggio, with a tinny guitar arpeggio, and the bass is so firmly relegated to the background that it's possible it's not there at all.
There are times when you can hear a touch of The Cure but for most part comparisons are with more contemporary scene-sters Fenech-Soler, the Klaxons and Yeasayer but it seems unlikely that someone would rather listen to Is Tropical over anyone of their contemporaries. Lead single 'The Greeks' - The one with the crazy-violent cartoon promo, remember? - Is probably the best of the lot. But in truth, take away the controversial viral video, and you just have a marginally less mediocre track, on a less than mediocre album.