Irrelevant – Little Figurines (Kokeshi)
Sophomore release from future dub producer delights in places but leaves you craving more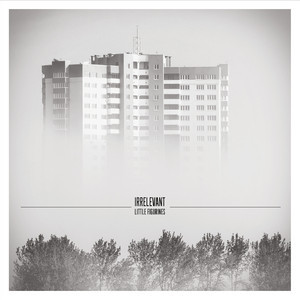 London label Kokeshi presents another album from up-and-coming producer
Irrelevant
. Keeping with the tradition of his first release,
I'll Be Okay
, his music brings people out of the fast-paced clubs and into a deep and pensive world.
One thing you can't ignore with this album is Irrelevant's selection of a unified sound. He goes for ambient dub in a big way here and achieves some degree of success. The tracks offered here are moody, saturated with resonating synth effects and pitch-shifted samples. Irrelevant puts together and mixes them in and out to create a significant overall atmosphere for the project.
Little Figurines
keeps most of the songs to a strict formula of construction, making sure to include and highlight all of the elements listed above. This all combines to form an album with a consistent tone that is easy on the ears and allows the mind to wander.
While the presence of a uniform style is a solid strength, it is also the source of the album's greatest weakness. Irrelevant clearly found a set of sounds and techniques he loved and ran with it the whole way. His choices are not bad ones but the tracks can bleed together to the point where they are indistinguishable from one another upon first listen. He was smart enough to include breaks in the album to shake things up sonically, but a little more variety and complexity with individual songs would have gone a long way.
An exception to the rule is 'Throws', which employs some interesting percussion kits and background noises of traffic to spice things up. 'Moments' is short and comes early enough in the track listing so that the heavy sample usage doesn't come across as overplayed. But the usual sounds and styles of the album make their way onto these songs, diminishing their ability to stand out from the rest.
The only other tracks that stray from the set formula are its three untitled interludes. The nameless selections are backed by static, needle scratches, offbeat samples and percussion, and interlaced with coughs. The result is that the shortest songs on the album are the most interesting to listen to because they break up the monotony and have a personality all on their own. It would have been nice to see these elements appear more frequently throughout the album in order to make it more memorable.
Irrelevant creates some beautiful music and is well versed enough in the technology he uses to deliver sporadic combinations that add flavour to his mixes. Unfortunately, he doesn't stray far enough from the middle line to make any of the longer songs stick to memory. Little Figurines will find a cosy place in your catalogue of chill music - perfect for turning your brain off and relaxing, but don't look any further than that.