Humanfly - Darker Later (Brew)
Heavy, angry, and straight to the point. Humanfly make an impression.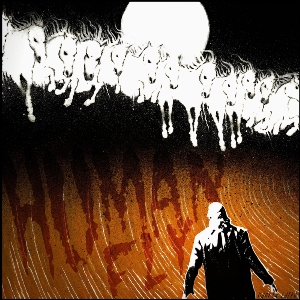 The brutal third offering from the Leeds four-piece makes up in weight for which it lacks in length. With only six tracks it proves concise, punishing and at times bridging on colossal. This album is enough to pummel the person that "grew out of" heaviness in their teens straight back in to such phase, with a healthy dose of aggression.
Darker Later
(possibly a pessimistic reference to Nick Drake's 'Bryter Layter'?) comes in various metallic guises of doom, death, and sometimes even sludge; perhaps the ironic sounding "post-doom" sub-genre could be applied here with a worthy nod to the music of Flaw, and possibly Torch if such comparison is needed.
Like their music they uphold a ruthless attitude with their frank song titles such as 'This is Where Your Parents Fucked' and 'English And Proud And Stupid And Racist'. Vocally it boasts a range of distant screaming, low growling and arguably Sabbath-esque full voice singing, all commendable to an already dedicated instrumentalist in the name of John Sutcliffe. Also the low guitar and bass tuning bringing some notes on the bass about as decipherable as Bob Dylan's lyrics when playing live. Not without merit though.
The instant cut-off ending of 'The Enemy Of My Enemy Is Me' introduces the title track well, when the arguable skies of relentlessness clear for a token softie. You'd think that at least until the 2:00 mark and we remember that there's so much of a sensitive side to Humanfly, when the monolith of 'Heavy Black Snow' slams into the forefront like a fuming dole-queue attendant. Not so concise at 17 minutes 10 seconds, it's a multi-passage epic containing a narrative spoken word excerpt from Rose Kemp, that for some reason works well on a slow paced doomy soundtrack (rather apt as it's a passage about disastrous events on a large scale – shan't give too much away). However this can get considerably long winded and hard to keep your focus on, it makes you think if it would have had a different turn if Ross Kemp had done it instead. The climax however is really something, delivering an Armageddon-like burnout to see the wreckage off in style, laced with equally apocalyptic voice chants.
Darker Later
rarely ever dithers off or lacks urgency, as every slab has notably been fine-tuned and locked down to an acute level. A notable hats off to Ben Gardner on the production making this trio sound meaner and than more robust than they ever have. You tend to forget how heavy they were until now.