Fresh Snow - One (Hand Drawn Dracula)
Sterling second LP from Toronto post-rock quartet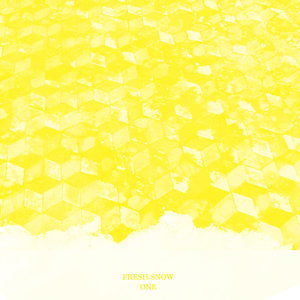 You've likely not heard of
Fresh Snow
. That's a terrible shame because all the bands cranking out post rock these days could learn a few of their tricks. Where the definition, 'post rock' gets muddy for me is when it gets too ambitious which may sound like bland contradiction. Often though, I find I'm left feeling that many bands regard an incorporation of new ideas suspiciously, giving many records haute tyrannous impressions.
Over the course of a few albums (a couple also titled some variation of
One
, I and the cleverly dubbed,
Won
) the Toronto band has proven to be apt at capturing a cascade of powerful emotions in their net of strident guitars, technically sound percussion and a cleverly progressive implementation of synthesizers and vocals.
Their latest
One
opens on a gradual instrumental build in, Olinda which finally crests into the anthemic rock song that it had promised to become, before feeding into January Skies a track the opens on a blown out bass line and is a sudden nugget of ragged glory. What I have adored about Fresh Snow's approach to post rock is how they've managed to craft well designed, mood rich music without completely shaving off the rough edges. It's a nice fusion of recklessness and refinement.
On previous records, Fresh Snow felt louder and rowdier but they've edged out. Their dance club song, Mass Graves/Dance Caves is no classic, but it's druggy and indulgent, and bounces around completely ignorant of post-rock seriousness, the vapid lyrics centering on a languid refrain, '
deer in headlights
' evoking a striking image of near disaster. It's the right song for this album. The refreshing moments of reprieve continue with cold, synthesizer and piano pieces, Eat Me In St. Louis and slyly maudlin, Anytime Minutes tracks that set up driving, hair pinned back instrumentals like I Can't Die and I Am Smitten With Wrath.
Not only are Fresh Snow proficient songwriters, they have whip smart verbal sensibilitiy too. In the end,
One
comes across as the sketchbook from a band, teeming with triumphant vision, and that is no more evident than on the closer, Flat White which peels back vigorous layers and explores nostalgia, reveling in moments of breezy reflection. You won't drive across an autumn landscape to a better song this year.
Among my only quibbles with
One
is that it climaxes almost too frequently, drawing back on the album's total affect. The series of smaller crests give it a rough, songwriter's tablet feeling. That's a small one though, for an album that stands proud, head and shoulders above.