Fists – Phantasm (Gringo/Hello Thor)
This summer debut lives up to the hype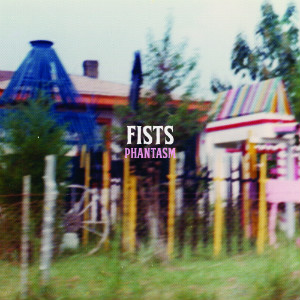 It's massively exciting to hear a long-awaited debut album from a band you've been following for years and years. Especially a band like Nottingham's
Fists
, whose first demos, some five years ago, sounded like they were presented through a bush backwards. Now, you can't help but feel impressed at their achievement to hammer home such a joyously fulfilling full-length, balls deep in flavour and variation. The duo of local labels is worth keeping tabs on, too. Both are renowned for championing the more experimental and slightly eccentric side of rock with a definitive edge - and Fists slot comfortably into this respectable little identity.
You can always rely on an album that starts with a rumble of swung drums, and a track entitled 'Go'. The energy of the band cuts through from that very word. The sweet, wavy female vocals of
Angi Fletcher
is more prominent than the madcap howls of
James Finlay
on the counter vocal – something that used to be the other way around, which is interesting but still a good mix to keep you on your toes.
Phantasm
boasts a chronological mingle of Fists hits, too; although previous single 'Stag' is absent on this record, 'Cockatoo Redux' (formerly 'Cockatoo' as a single) is a memorable number for most fans. As a listener, you might be able to tell that this was written before most of the tracks, as the rest of the songs seem slightly more on the mature side (with all due respect, obviously). It's clearly not just a "Greatest hits from the first few years" jobbie – anyone that says your first album is just that is
always
talking utter guff.
As far as Phantasm goes, Fists' sound these days still has a rugged feel throughout, however, there's not one cut that makes out like the twin of another track. There are angrier efforts such as 'Wasted' and 'Straw Dog' that meddle perfectly with sweeter, lush numbers like 'New Clothes' and the well and truly milked seven-minuter 'Yr Glove'. It's not just garage-punk, nor indie-pop, nor rockabilly or whatever you feel compelled to call it. There are elements of
Pixies
,
The Breeders
,
PJ Harvey
,
Deerhoof
and
Metric
intertwined across the entirety of the album - the influences shine through like a sinister gold tooth - but you are offered a bulk of originality and creativity as a unit with something to say.
Phantasm, most certainly as exciting as its name, is an album filled to the brim with quirky drums, wiry guitars, fuzzy bass, unhinged vocals and a sense of passion and enjoyment, which helps it all fit together oh so nicely. Hopefully we'll see more of Fists nationwide after this release, as there's been ample plugging on credible BBC Radio so far. If you're from Nottingham, then it's the law to have at least heard of them - if not, do indeed keep 'em peeled.