Fire Stations - Firestations EP (self-release)
A self-released EP to perfectly compliment the long summer days we are currently experiencing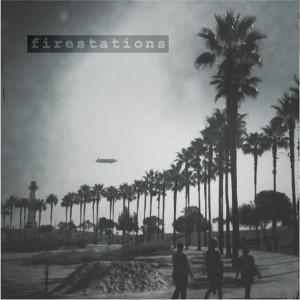 Fire stations are usually noisy, frenetic places with lots going on. This duo go against the grain of their own name with this, their debut; a self-titled EP of acoustically fronted pop tunes. Band members Laura and Mike make up Fire Stations, a band that begun as side-project whilst the pairing were both involved in musical projects aplenty across the capital including Left With Pictures and Dark Captain, Light Captain.
Their four-track release begins with 'Let's Leave Today', an organ-fuelled gem with a folksy edge. Here, as for all the tunes on this diminutive record, there is a definite nod to folk-orientated bands of yesteryear – with even a touch of Pentangle or early Jackson Browne. The combined vocals of the two members play well together, with no small reference to Beach House's similar boy/girl style.
Chilled, but with a gentle majesty that remains simple, standout track 'Fill Up The Spaces' is a brilliant song. Interweaving flugelhorn lines, from the multi-instrumental Laura, add a mellow undercurrent. With a real Zero 7 feel to this lazy, yet thoughtful number, it is sure to please fans of chilled electronica and ambient music much less acoustic pop.
The combination of retro Casio-style drum samples, looping guitar and the ominous suggestion of that same horn creeping to the forefront, make the third track 'Catnap' a quirky little number. Mike's rich vocals are complemented perfectly as the ever-popular glockenspiel only adds to the eclectic composition. It's always a surprise to hear an EP with a wealth of good material on it, and
Firestations
with two showcase songs is more than just the usual one-track wonder.
Rounding off the debut, 'Forgetful Man's folky, flutey interjections, intertwined with simple lyrics are welcome, but missing the textural interest of both Laura and Mike's vocals.
Finding good company in the stirring nu-folk scene, Fire Stations's pleasant EP compliments the long summer days we are currently experiencing, and I for one am left hoping that there is more to come