Eric Gaffney - America's Drug (Self Released)
Raucous lo-fi brilliance from the Sebadoh co-founder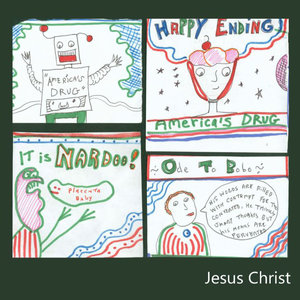 Rock genius springs from wherever conditions are right, like sidewalk weeds. The warm, gentle surf of sunny SoCal. The literate banks of the River Thames. A fetid bong water spill, still pooled on a curled patch of basement carpet somewhere in western Massachusetts. Life is a funny, mysterious thing, brother.
When Sebadoh rolled through Portland in 2007, I went and man, it was a shit show. In a good way. Dank club, beer spattered floors and volatility to spare. Lou in his tattered cardigan seemed incapable of sticking to the set list. He argued with band mates and the crowd and the sound guys, none of which seemed to really know what the hell he wanted. Those without indoctrination might question how this rambling wreck could spawn greatness in volumes, but looking back, into that grime streaked rearview mirror, that's precisely what they did.
Eric Gaffney
, one of the principal antagonists in the Sebadoh story, under his new moniker has released
America's Drug
a new piece of messy, noxious brilliance. What else would you expect though? His songs are mostly chopped up, too short to be considered ambitiously constructed and too crafty to care whether you notice. The signature lo-fidelity sound is on gorgeous display, filled with clangs and noise and out of tune instruments competing for narrow space, every moment warm and inviting.
When Gaffney departed Sebadoh, a certain vein of insanity went in a cloud up the staircase with him. Albums like
Harmacy
and
Bakesale
aren't conventional but there is a measure of discord missing; actually there is a new wrinkle, and that's edge of alternative boom coherence. Gaffney took away the thrash, tracks like "Crisis" and one my all time favorite titles, "Cecilia Chime in Melee" but as it turns out, he didn't take them very far. He just took them to his basement alcove. My favorite tracks on
America's Drugs
are from that very familiar frenetic space, like the bonehead anthem, "What I Do" and "I Smoke Pot" the, well, stoner anthem. Between foggy spoken word bits, Gaffney seems to be answering making curious purpose statements, a series of "I Am's" and they're cool.
The warmth I feel is pretty odd, right? At all times throughout
America's Drug
though, I'm imbued with a calming, cocoon effect, embryonic, like a basement should be, regardless of season. Even on a cold western Massachusetts afternoon.
Available to buy from here