Earth: Full Upon Her Burning Lips (Sargent House)
A substantial new entry to the venerable heavy rockers formidable catalogue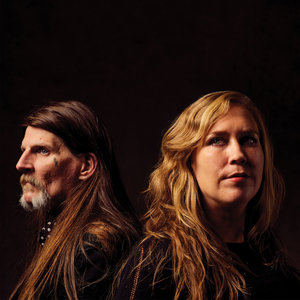 On their ninth record,
Full Upon Her Burning Lips
Olympia, Washington's
Earth
find themselves at another crossroads in the drone metal sound they started pioneering nearly a lifetime ago. Five years back on
Primitive and Deadly
, the band became, by their own admission, a rock band, developing here-to-fore structures that were unthinkably pop-like. Suddenly, 1993's
Earth 2
seemed a long, long time in the past.
Earth's reformation in 2001 saw the band spring out of a hellacious and bleak sound, into something cleaner and more streamlined. While their subsequent records were certainly not accessible, they were a hell of a lot
more
accessible than their earlier stuff, which could have been described as something beyond music altogether. Bandleader Dylan Carlson had somehow forged a strange, but viable connection between drone, heavy metal and other genres like country and, in some cases, folk.
Full Upon Her Burning Lips
continues Earth's gradual departure and evolution in sound. The album is made of up ten tracks, only two of which clock in at over ten minutes. Largely clipped and succinct, these songs are far shorter than most anything they've offered before. At twelve minutes, Datura's Crimson Veils opens the record up. It is the longest on the album, a song that slumbers gradually through a methodical series of guitar peaks and valleys that is quintessential Earth. While the grooves on Exaltation Of The Larks are bright like a scythe blade and scintillating, the three-minute song feels like an appendage. It seem like the lost culmination to Datura. Among my favorite tracks on
Full...
(and maybe the Earth catalogue) is
Cats On The Briar
demonstrates the band's classic sweet spot, simmering guitars cascading from all around, and satisfying progressions that sprawl languidly out over a six-minute track time. I love the gloomy, nocturnal feeling on Maiden's Catafalque but at less than three minutes, it leaves me needing something more to come away truly satisfied.
After repeated listens, I come down to the opinion that the only real flaw on
Full Upon Her Burning Lips
is the album's lack of texture. On 2008's
The Bees Made Honey In The Lion's Skull
the album's sound was layered in a drowsy, summery haze; on their most recent record,
Primitive And Deadly
, I felt an ecstatic swirl of cosmically vibrant color. While Earth continues to put together better heavy songs than most anyone else this feels like a near miss at true greatness. Tracks like The Color Of Poison and She Rides An Air Of Malevolence feel, it pains me to say, almost derivative and boring.
Full Upon Her Burning Lips
sounds like Earth, but it feels barren of their terrestrial edge. It's not the band's usual high concept feeling, which is strange as Carlson has called this recording witchy, sensual and an attempt at a sexy sound. If anything has proven true, however, is that this is not a complete transformation. Like the primordial piece of cosmic rock beneath their dusty boots, Earth is always still and always moving.
3/5