e.s.t. Live In Gothenburg (ACT)
A 2001 set by the late jazz legend and band showcases an outstanding live performance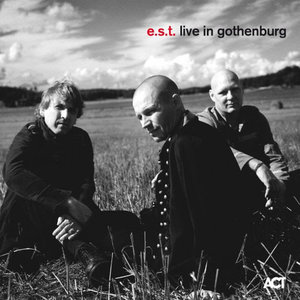 Just over a decade after his tragic early death, this double CD provides a chance to hear a 2001 concert that pianist Esbjörn Svensson referred in his lifetime as one of the finest gigs played by a pioneering jazz trio completed by Dan Berglund on bass and Magnus Ostrom on drums. This legendary Swedish show focuses on tracks from
e.s.t
's 1999 international breakthrough album
From Gagarin´s Point of View
plus 2000's
Good Morning Susie Soho
.
But let's start with Bowling, a never previously released track that's almost worth the price of the album on its own – 12 minutes 40 seconds of jaw-dropping jazz chutzpah that kicks off like an intimate slice of chamber music (this is a band that name checks Bartok), before surging into stunning bass-and-piano interplay dappled with vampish pizazz.
Berglund's bass playing is extraordinary here, and damn fine elsewhere too: a hypnotic slow pulse on the loose lope of Something Else Before; lyrical in the beautiful opening track Dating, where it dances in perfect harmony with Svensson's free-flowing piano lines. Twisted and electrified, it sounds like a guitar solo against stabbing piano on the closing Dodge The Dodo.
That track's quieter Eastern moments demonstrate the trio's control of mood across 100 minutes of music. The second CD, for example, opens with a brilliant half-hour segue covering three tracks. The outstanding Providence fuses sumptuous classicism and disjointed beauty, before Good Morning Susie Soho takes over with Berglund's angular and almost rock-like bass in dialogue with Ostrom's drumming, contrasted by Svensson's languid piano. The Chapel then cools the mood with sweet poignancy.
The trio aren't afraid of the unexpected too, such as the country blues tinge on the lovely elegiac The Second Page. Only a couple of tiresome drum solos (the worst at the end of the spiky Rube Thing) are the tiniest quibble on this superb addition to the e.s.t. discography.
I was lucky enough to have a break in Gothenburg a couple of months ago (it's a brilliant city), and I'm sure I heard the locals still talking about this gig - this is your chance to join the conversation.
4/5