Dust On The Radio: Halfway To The Stars (Self-Released)
LA five piece return with early eighties new wave inspired set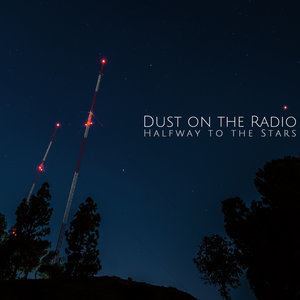 Opening up with the steamy post-punk anthem "The Camera Loves You" signals one definitive thing as truth:
Dust on the Radio
has arrived in the building, and you had damn well better stand at attention.
The early 1980's new wave influences are strong throughout
Halfway To The Stars
whether they appear in the brash, Morrissey-esque baritone vocals or the splendid mixture of keyboards sprinkled throughout the understory of six, guitar focused songs. Their sound is difficult to tune out, from "Every Day" a tempting track extolling a lascivious, lyrical brio, or "Waiting For The Sound" which uses a synthesizer to really space out. Not a single rotten egg exists among the half-dozen tracks, expect perhaps "Underemployed" which really hits the nail on the head too hard. I mean, I don't really need the reminder, thank you.
Dust On The Radio delivers a really polished sense of song craft to the mix on
Halfway To The Stars
. Normally that shine turns me off; not here though. The Los Angels band is not offering a raw, punk edge, nor is theirs a deep view on the cosmos but when they belt out their closer, "One Way Trip To Mars" one cannot help but feel as though the ride is a worthwhile one.