Drunken Balordi - Drunken Balordi (Filthy Dog)
Soaked in booze and ready to party, London style.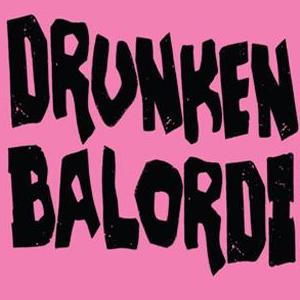 Or is it Gogol Balordi? The majority of listeners would probably think that after hearing a similar styling of Eugene Hutz with angry debauched vocals amid a Ukranian tinge, and fit Phil Jupitus' description of "like The Clash and The Pogues having a fight in Eastern Europe". However in terms of how far back gypsy folk goes, there's thousands of acts that you could compare them to, even in terms of the vocals. Just watch the film 'Train de Vie' and the music battle between the gypsies and the Jews, if you're not sold that is. And if you still think they sound too much like Gogol Bordello then, well, deal with it.
Talk of The Clash, this album (the first of which from the multi-national London outfit) is peppered with Strummer-isms from the get-go. Vocalist Billy King gives off this aura in the high-octane opener 'Santa Maria' especially in the rather dub-soaked middle 8. 'Brixton Sun' must be an homage to 'The Guns Of Brixton', a little less bleak depiction of the place that they appear to be hailing from.
'Up To Me' and 'Juda Ballerina' are the most prolific drinking songs lyrically; with the latter building up to an excerpt of traditional gypsy jazz standard 'Les Yeux Noirs' illuminating the accordionist and fiddler's fine chops. The 'Balordi (which presumably appears to be an Italian surname) are righteously donning the method of crafting the music out of a story, for example 'Lana' – the recollection of a feisty mistress who gets considerably dirty after a few; one pro to listening to the record over watching live being that you can tap in to the storytelling aspect much more.
The album is well produced, but lacks a certain edge of filthiness and the rhythm section sounds relatively sober (much to the irony indeed), yet this is compromised with King's chanting and backup oozin' aahs from the group with a significant dollop of rasp and squalor. However, there's surely no doubt this is better to hear live in a rum-fuelled ho-down than listening to the record on a rainy coffee-fuelled afternoon. In fact, this goes for almost every act involved with the current surge of Balkan and klezmer soaked party music appropriately infiltrating the festival circuits in years of late. So bottoms up to this bawdy bunch, and make mine a double.