Dog Bite - Tranquilizers (Carpark)
Misfiring second album from Atlanta-based shoegazers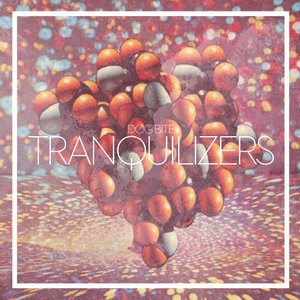 We often hear about normal people who are plagued by the reoccurring, extraordinary dream of endless falling. My sense is that Phil Jones and his Atlanta-based band,
Dog Bite
do not experience such harrowing, nocturnal theater though.
Their sophomore effort,
Tranquilizers
points to dreams of pure ascendance, The album opening with a satisfying flurry of stoned out, haunted songs that seem to swirl like a summer streamside eddy. The brief and yet lovely instrumental prologue 'There Was Time' could stand in as the record's credit sequence: anticipatory, inspiring, establishing the theme of bliss. I defy anyone to listen to songs like 'We' and 'Clarinets' and their sad, hypnotic dirge-like vocals and not feel something inside moving about. As one grows into Dog Bite's sound, there is a sense of their defying you to resort to your old, crass way of being.
But there is a process of diminishing returns as
Tranquilizers
winds its way out of the proverbial Side One, down into a blur of repetition. Make no mistake, most of the latter songs are striking in their own way – but in the key way, as exhibitions of fresh pop song craft, they fall short. Perhaps there is a grain of frustration in the production, as so much of the result of Jones' croon is thin and unsatisfying. While his voice is an apt instrument, it feels on top of, rather than a part, of the albums overall mix. This feels like a mistake, robbing those songs of impact.
Of course, someone is going to find this amazing, and I would flat out refuse to argue with them – because I almost do. Dog Bite has proven they can create a bevy of dynamic tracks like 'Wonder Dark' that are worthy of repeated listens. But the result is an almost record. As in, this is almost it. For a band that evokes the sensation of ascendance, that precipitous crash is almost heartbreaking.