Dengue Fever: The Deepest Lake (Tuk Tuk)
Reliably cool LA via Cambodia psych sextet deliver excellent seventh LP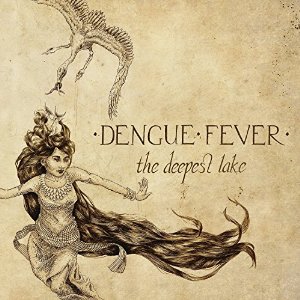 There is always something wonderfully compelling about an Eastern-meets-Western combo… especially when it's a psychedelic one. Contributing to a hearty back catalogue now, the latest offering from LA via Cambodia sextet
Dengue Fever
demonstrates a wealthy understanding of how to cross-pollinate worldly genres.
Initially intrigued by an unhinged retro drum machine,
The Deepest Lake
opens up and instantly submerges with slick, slimy keys wobbling over a tight round of percussion. This lines things up splendidly for vocalist Chhom Nimol to steal your heart with her haunting and captivating musings, and subsequently the brainchild of the band, Zac Holtzman and his marvellously intertwining guitaristry.
His signature Rush-style double neck guitar (No, don't go! It's half electric guitar, half tambura don't you know…) is not so apparent than it is on previous album
Cannibal Courtship
. However, the guitar work throughout delivers diversely and devilishly with acidic surf tones and eerie chords, complete with a righteous tape delay. Its individual and collaborative qualities are constantly interesting and ribbon the overall mix.
Justified single 'Rom Say Sok' is based on a Cambodian folk tale about a woman with magical long hair with the ability to soak up as much water as she wants. This knowledge is handy as it caters for the minority of English spoken lyrics, synonymous with its full-on noughties indie sound. 'No Sudden Moves' is a star piece, not only does it boast the catchiest riff of the album with far-out guitar and brass, and a solid groove with indulgent congas, it reveals Khmer hip- hop, something that should definitely become more frequent amongst their extensive book of tricks. In 'Ghost Voices' there lies definite aspects of Molam music, a genre that has been resurrected in partly due to
The Sound Of Siam
compilations, which are well worth a punt if you like what you're reading about. One criticism of
The Deepest Lake
would be that it lacks a kicking centerpiece to fulfill the momentum, the rate of knots dithers towards the end until 'Still Waters Run Deep' which is the closest amalgamation of South East Asian folksong and a 1970s cop show car chase soundtrack one will ever hear.
Outbursts of shiny trumpets are very clean cut and make it more reminiscent of a pop record than Dengue Fever's previous work. David Ralicke, also known for his work with Beck, is the bringer-to-life of the dirty tenor sax. His mighty fine display of solos is now a cut above, almost bridging on mad prog-rock King Crimson-esque tangents. Use of the word "skronky" would not be inappropriate.
The Deepest Lake
is a percussively rich album too, while the drum beats are delightfully simple, they carry the congas, bongos, cowbells, and all the other decorative rhythms, sort of like how a simple Ikea bag is designed to carry multiple objects in a sturdy manner.
All the elements of this carefully sculpted sound sit so well together, and while slow paced for lengthy sections, it matures with each listen once settled in to a suitable mind frame. A lot of attention to detail is paid to the minimal aspects of their sound – quite like a lot of old surf records are so specifically sparse that they sound like someone dying of thirst in a desert. Perhaps someone expecting a 100% fun-filled listen would have been mildly disappointed but nevertheless enticed into their transglobal stylings. Still a fun record too mind, yet equally introspective, aromatic and above all, dead cool.