Demontré – Masculin/Féminin EP (Desire)
This is stylised gloominess. And nothing is more fashionable now than well-dressed melancholy.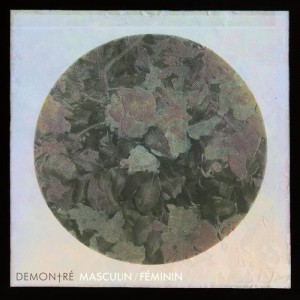 Ha, I love the way iTunes has no sense of how inappropriate it can be at times. Especially with its incessant need to just keep churning out the tracks in your playlist – no breathers, no dramatic pauses. And so just as the last few bars of the new Demontré EP trail out, the catchy drum machine of the next 'D' in my library tunes in. Needless to say Deniece William's 'Let's Hear It For The Boy' is so far removed from
Masculin/Féminin's
dark bass lines and droning guitars, it's a like a violent sugar rush in the middle of an oil spill.
Setting aside the silly haircuts, accented e's and the moody black and white photography of this relatively new London trio, the first proper bite of what they've been cooking up is an intriguing mouthful indeed. Scraping bits together from Joy Division's melodic haze, Wild Nothing's darkest moods and even The xx's brooding unease, off the chart angst levels permeate this record.
The quieter moments of 'Lorenheim' subside to sad interjections of 'I have wasted my time on you' before towering walls of guitar fuzz take over again. Somewhere out there, there is a lonely fifteen year-old who can't wait to down a bottle of Sainsbury's Basics vodka and scribble dejected thoughts into their diaries to this. But don't let that put you off.
This is stylised gloominess. And nothing is more fashionable now than well-dressed melancholy (I've already mentioned The xx). Just ask Hedi Slimane – fashion designer supremo, photographer and high-ranking indie kid (albeit one in his forties). Having featured Demontré's first single 'Brandenburg' on his website he also gave them, just as he did for those icy popsters Hurts, their own shadowy photo shoot. Sullen stares and sweeping fringes abound.
But it really is worth taking note - moments of brilliance shine take leisurely strolls all over this EP. From the crashing than pounding segue between the instrumental first part of 'The Vale of Health' to the bass-raging second, the psychedelic grunge of the 'White Feather Letter' with vocals recorded in space and the generous dose of stadium drum pedal that shows up all over the place,
Masculin/Féminin
works dark but effective magic.