Dave Zup - Oh, It's Going (Self Released)
Impressive debut set of old-school hip-hop by the Ohio MC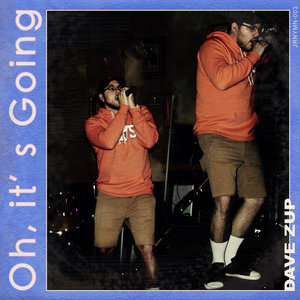 Cleveland rapper
Dave Zup
has flow to spare, which makes a lot of sense. The dude has been putting out a steady stream of credible mix-tapes, singles and records since 2011.
Throughout the ten tracks on
Oh, It's Going
, Zup explores an old school instrumental style that is almost always straightforward and easy feeling. Most of the songs blend throwback, 1970's R&B and traditional roots hip-hop, translating to dusty grooves that are definitely smooth. Tracks like The Take Back and Leg Beat 7 blend his devilish, seductive delivery with a deft production and an ear for hooks. There aren't many bangers to speak of on
Oh, It's Going
. It's less of a street drop than it is a mix of club tracks. When Zup's delivery hardens, like on Every4Hrz and Get Fresh he comes off as much less charismatic, which is his strength as a rapper.
Zup doesn't do gangsta or trap and there aren't a hundred features on this thing. Instead, he stands forward like an MC in control of a strong set of songs. His lyricism comes off easy, allowing his unforced rhymes room to strike like a force of nature. A few times Zup puts his influence on his sleeve, like when he spins the instrumental Because Donuts a definite call out to the late, great J. Dilla. This record is really more about bucking trends though.
Oh, It's Going
wows you because it knows what it is, a balanced, well-produced old school hip-hop album.